The week that was…16-20th July 2018
Singapore, Weekend 21-22nd July 2018
You never know what to expect in our profession, every week is different, which I guess makes our job interesting and never dull…I am typically not a 9 to 5 person and the variety, the unexpected locations of a new project, the new challenges and the people that you meet in the process, provide an incredible rich canvass of experiences to draw on. Combined with my passion for lighting I am privileged to be doing what I am doing…
Life after the world cup
The week started of course after the month-long world cup soccer tournament that saw its final played Sunday night with my beloved France beating Croatia in thrilling match. The Sunday was made extra heavy on sport with also the men's Wimbledon final played and, if like me you are also a cycling fan, the Tour de France going on as well. After weeks of late nights and morning after soccer analytics this week was strangely quiet…😊
Ministry of Manpower
This week saw the unexpected visit of government officials checking out our company. They select companies randomly and based on the audited and filed tax reports actually interview some of the staff and check whether indeed the company conforms to the Singapore work statutes and regulations. Basically, they check whether we can back up what we declare. They had announced their visit a few days earlier to make sure we would be there. Based on salary declarations, they checked on our payslips, the staff appointment contracts and actually interviewed selected staff (Aishah was the lucky one 😊) to get her feedback on how we were implementing working conditions. I had a word with them afterwards to make sure everything was OK. While it initially felt intrusive having the government coming in to check your company, on reflection I felt it was a good thing. After hearing stories how companies abuse the system and their staff…it is good feeling knowing the government gives your company the thick of approval…good for me, good for our team.
BIM / Revit
This week saw also a follow up on our attempts to move our team capabilities into the new world of BIM/Revit modelling skills. We had a special team meeting with Revit specialists to tell us the finer features of the software to determine how best to implement that in our lighting design services. There is no real need to have full scale BIM drafters as in our normal course of work we would get the models from architect or other lead consultants in the same way we get the Sketch Up models to execute the implementation of our lighting design. The potential for lighting with the Revit software is really good with in my opinion making our production work far more efficient. There is a Revit LT version which we are going to try out next to the full-scale Revit software to compare and determine what we need…It definitely seems to be the way to go.
Singapore Garden Festival
In a previous blog I mentioned the invitation by NParks Singapore to be the head judge for the best lighting award at the biennial Garden Festival held at the famous Gardens by The Bay. Invited landscape designers and horticulturists from around the world are challenged to design landscape and fantasy gardens and given a no less than $100,000 budget to develop their concept garden. The festival opens this weekend (600,000 people are expected over the coming weeks) and earlier on Thursday and Friday, saw the judging, award ceremony and related press conferences to hype up the public interest. I was supported in my judging team by Bob Sweet, Horticultural Director, BBC Gardeners World Live from UK and Mr Sam Lemheney, Vice-President, Chief of Shows & Events from Philadelphia Flower Show (USA), all bringing in their own much appreciated personal views and experience.
I had developed the judging criteria with NParks focusing on
– first impressions (Wow factor),
– relevance to the concept (how well did the lighting enhance their design)
– innovation and originality
– how well lighting was integrated in the design (aesthetics and visual appearance)
– sustainability (energy efficiency, light pollution)
– safety and functionality (public safety compliance, practicality)
It is always a challenge to judge. Lighting specifically can be very subjective but after my explanation of what I was looking for with my criteria we were pretty unanimous in our scoring and final decisions. The key to me is how well lighting integrates with its environment. The winning fantasy garden display, "Precious Land" from Tom Massey, was simple and very strong, lighting was so complementary that it was not about the lighting but fully on the experience of the scenery…exactly how lighting should be, not an add on but a totally integrated part of the experience…It also had a strong environmental message, perfect! The outdoor gardens were a close match with all three of us on the fence about the eventual winner; nature versus the urban integration of lighting. Inch Lim's subtle integration of lighting in his "The wild and restless" display had the exact right balance of brightness. Kate Gould's urban community concept "Urban Lifestyle" likewise had the exact right balance of brightness. With Singapore's high urban context and the many communal outdoor spaces that can be find in housing and condominium estates we felt ultimately that the relevance and educational value of good lighting in urban spaces was best expressed by her and therefore awarded her the winners award for the best lighting. Congratulations to all for all their efforts, it was a pleasure and great experience to judge the lighting together with my eminent fellow judges.
Below some mood images of the festival, have a great weekend
The judges and our deliberations: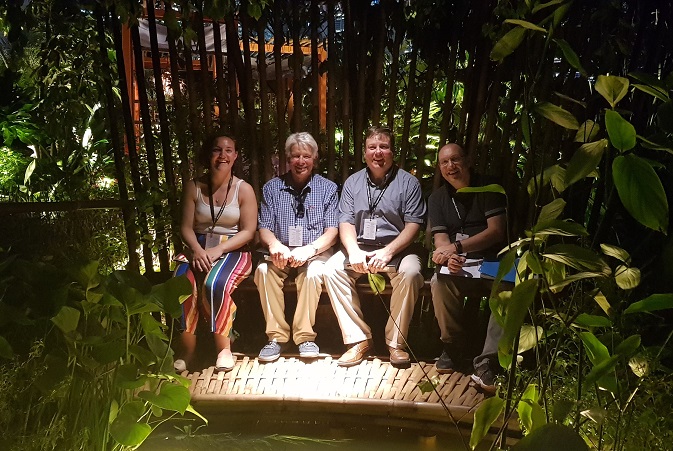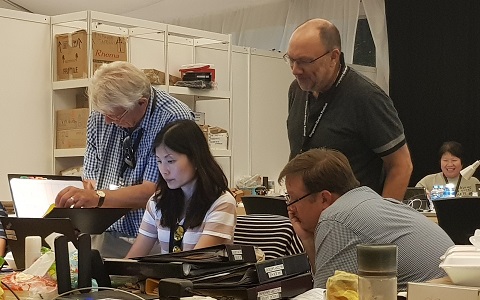 The Fantasy Gardens: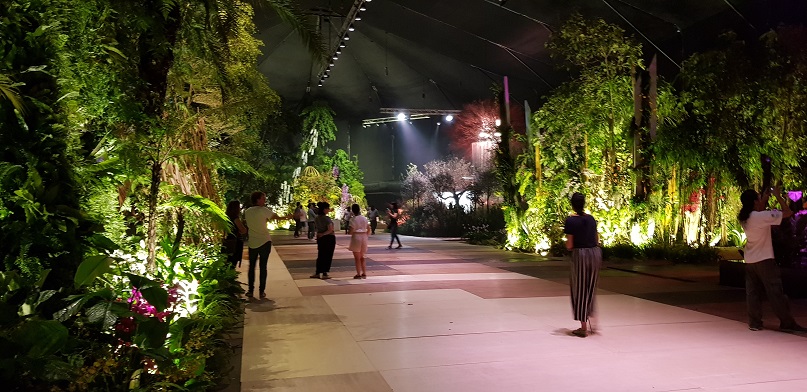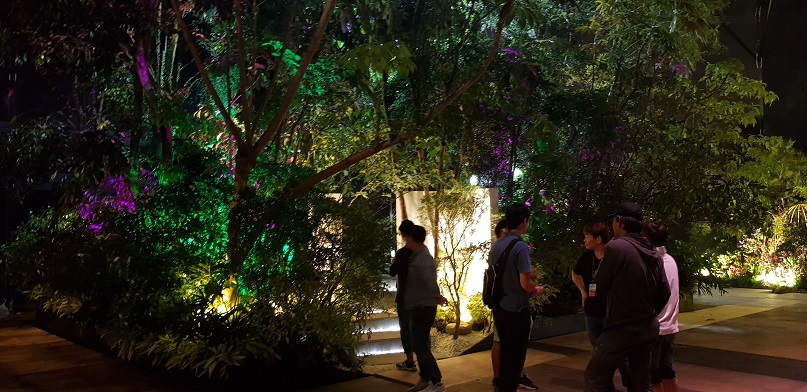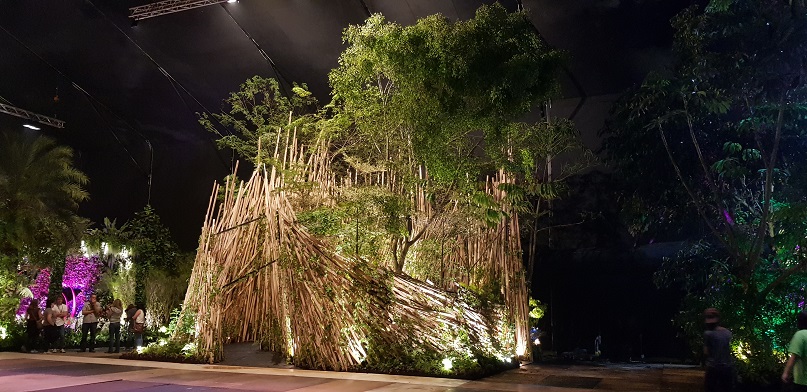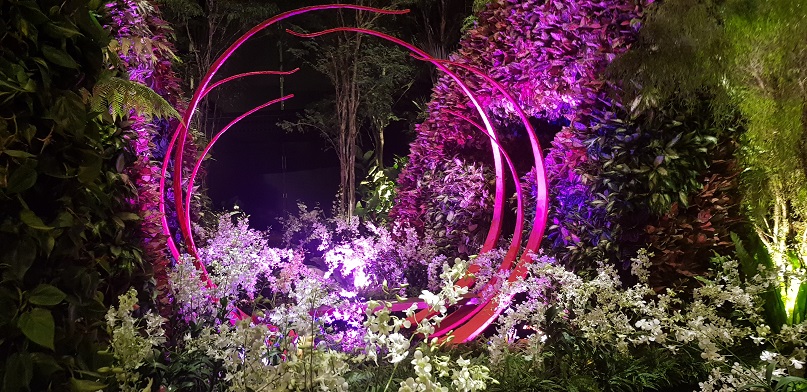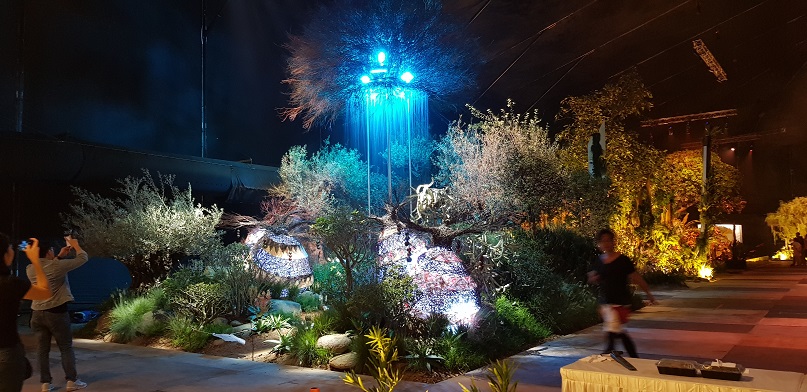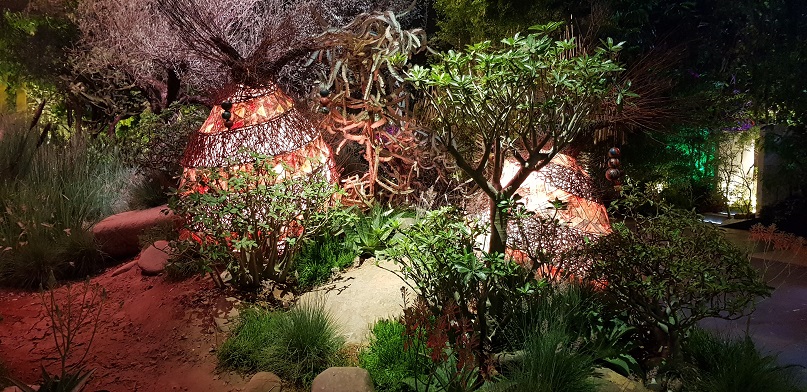 Our Winner: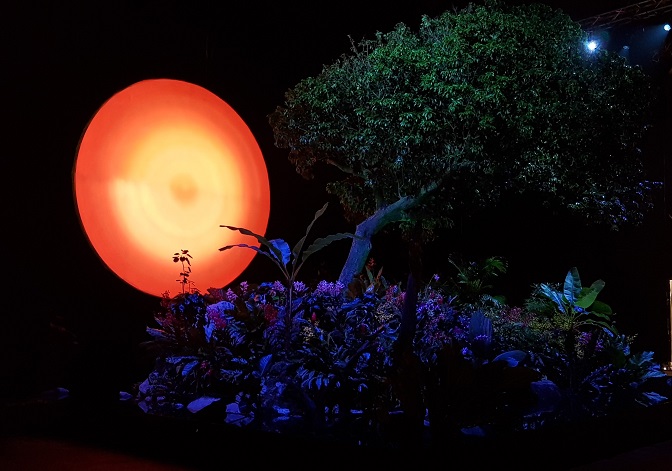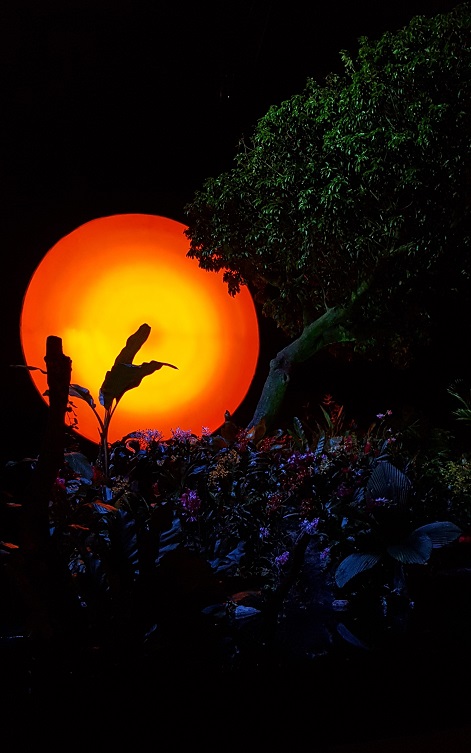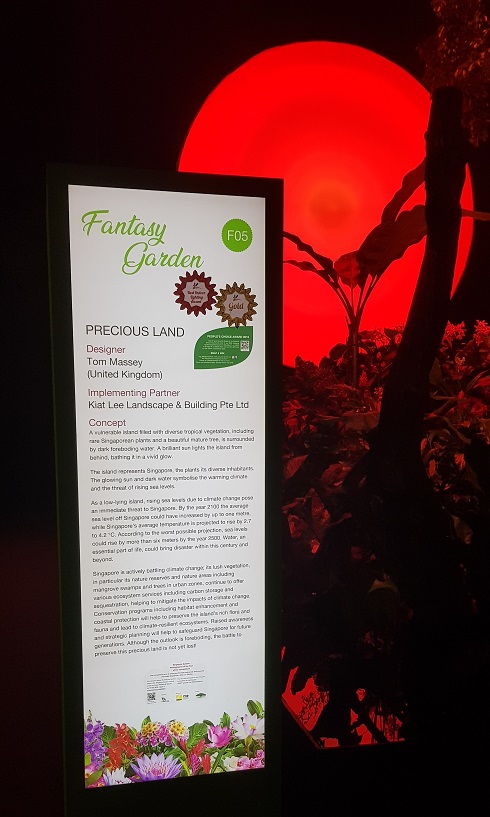 Outdoor Gardens: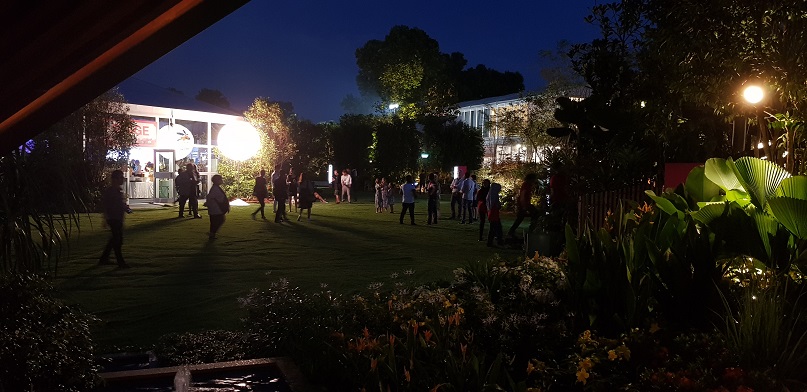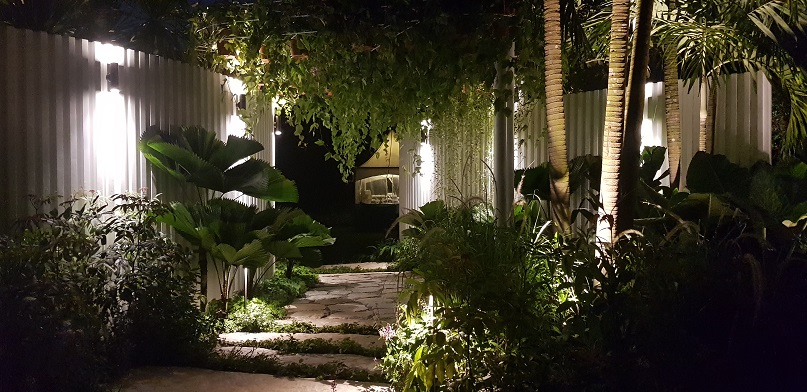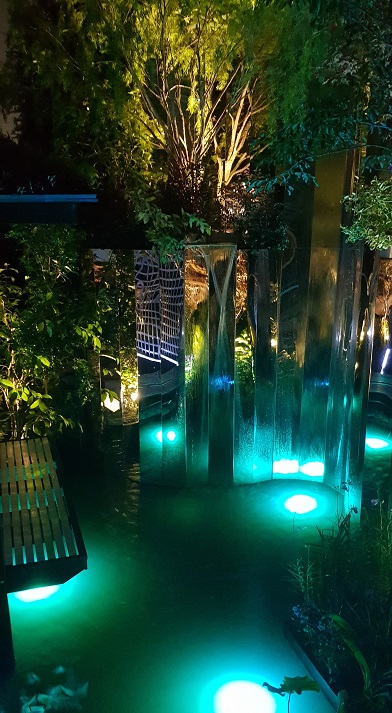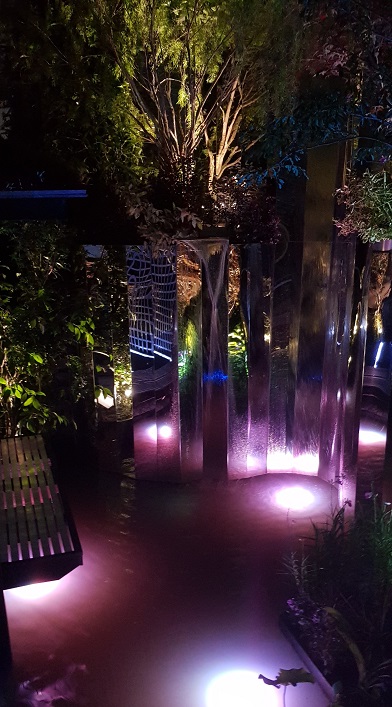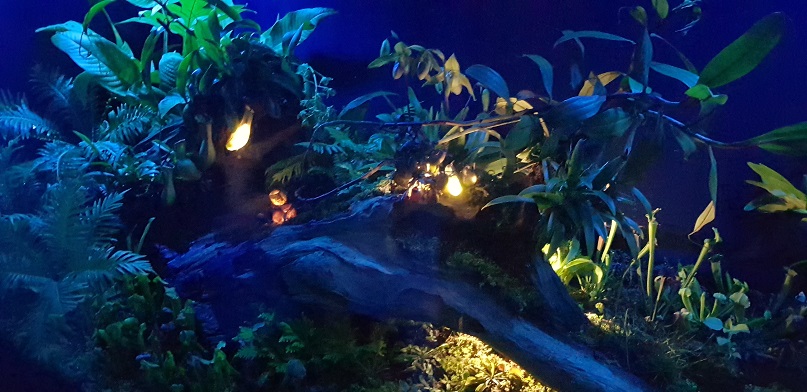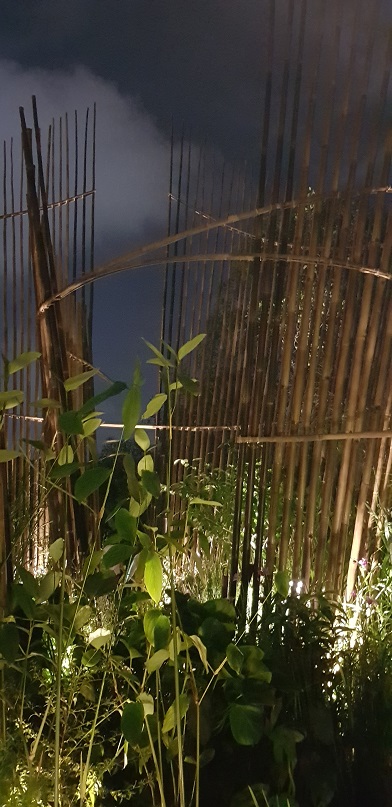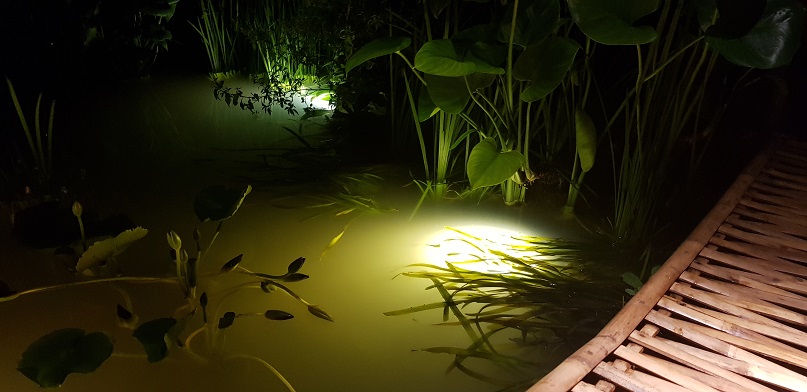 Our winner: