The week that was…9-13th April 2018
Male -Singapore, Weekend 14-15th April 2018
When you travel to exotic places people always assume you are on holiday, regardless if you actually go there to work. This week I am back in the Maldives for our Raffles Hotel project upgrade, our first visit to this site that was held up before due to the state of emergency that was issued by the government. It was lifted a few weeks ago clearing the way for us to visit the site…finally. Yes, I took some idyllic travel brochure pictures, but otherwise we had quite an intensive program to settle design issues for the mock up villa and survey all existing areas against the design proposals made from behind our desk. On the spot design is my favourite way to approach renovations as you can not only get a direct feel for the spatial architecture surroundings, but also get a direct feedback from operations in regards to guest behaviour as well as discuss with engineering what the most common issues are they are dealing with. No point in repeating the same mistakes and learn from the problems they are now facing!
The WIFI here is surprisingly good island wide so in between we had a bit of time to attend to general project issues from our luxury villa.
PLDC
Not much to update on PLDC, we are still in process to source for our final key note speakers as well as the venue for our gala dinner. The excursions are starting to take shape with guided tours confirmed to the award winning Gardens by the Bay and the iconic Atlas Bar, the world's best new bar of 2017. Getting the Singapore government to participate has been a painful process with little success so far.
LET Bangkok
Going into the last month stretch…still looking for some final sponsors as L&B, Light Fair and PLDC are eating up all the little bits of budgets for this year, but otherwise we are looking forward to an exciting work shop and speaker program.
Maldives
For those who have never been to the Maldives it is perhaps interesting to understand a bit more the impact this remote location has on design and implementation. Just imagine a tiny little island with mangrove and palm trees that takes only 5 mins to walk around. A big generator (some are still diesel powered), hidden at the centre of the island surrounded by the staff quarters, provides electricity to the 20-30 villa's dotted along the beach, hidden in the vegetation. You literally walk out of your villa straight on to the white sandy beach and after a 5-minute swim in crustal clear blue water, you reach the edge of the reef with beautiful marine life. Reef sharks (about 1m), turtles, manta rays, thousands of colourful fish provide a magical, surreal environment. There are also water villa's, built on stilts over the water, that allow you to experience this even more directly. Now that is the tourist experience…you enjoy that a couple of days, perhaps a few weeks, then you return to the real world.
Working and living
Now people who actually live and work here…absolutely nowhere to go! The staff quarters are hidden in the middle of the island with basic amenities only. They can't really go to the beach as this is in principle for the guests! They can't really go to the city for a day out, because (in our case here) they would need to take a 30 min speed boat ride to the local airport and then take a 1-hour domestic flight up to Male. Besides the fact that it is very expensive it's also quite an undertaking for a few days away. Visiting other resorts wears off after a while as well! Not surprisingly people selected for management roles are psychologically tested before actually been given the posting…it's quite a personal investment!
Also bear a thought for the engineering and food preparation team that needs to coordinate logistics to keep it up for the guests in terms of maintenance, services and food provisions. There is nothing here so everything has to be ordered in and then flown and shipped to the island.
We had one sunny and two rainy, stormy days! Imagine making a holiday journey, spending USD 2000 a night to find yourself stuck inside because of bad weather…
Consultants and contractors
Now the bit that concerns us…being the design consultant or contractor tasked with the renovation of the property. All seems beautiful from behind your desk, but only once you reach the site, you realise its not all sun shine…as I mentioned literally everything has to be flown or shipped in at extravagant costs. There are no light bulb shops on the island, except one or two "light shops" in Male 500km away, there is nothing. So it has to be imported from either Sri Lanka, India, Singapore or the Middle East. As you can imagine the banking system is also very limited and customs clearance of anything can take a while because of the limited daily cash resources available to clear goods.
We had our lights flown in to Male, but now at the end of the week waiting, they are still awaiting clearance. Because of costs they are likely be shipped for a journey that will take about 2 days by a relatively fast "speed boat".
The contractor brought in, is from China and while his men are all living on the island, his main concern is logistics of goods to site. Any site issue you have to deal with it on site with the means that you have for the same reasons…
Not surprisingly budgets are through the roof for these kind of projects and success very much depends on very close communication and coordination between the project team members. I can't emphasise enough the importance to be on site and understand the issues of remote locations! These projects can never be properly designed from behind the desk!
An idyllic location yes, and the experience enriches you, but in terms of work it is as hands on as can be…
Enjoy the weekend (and the pictures…)
Mood pictures, the site currently…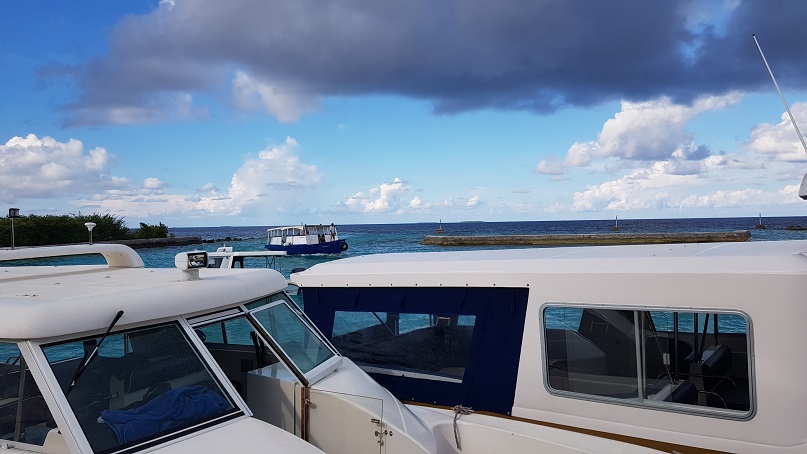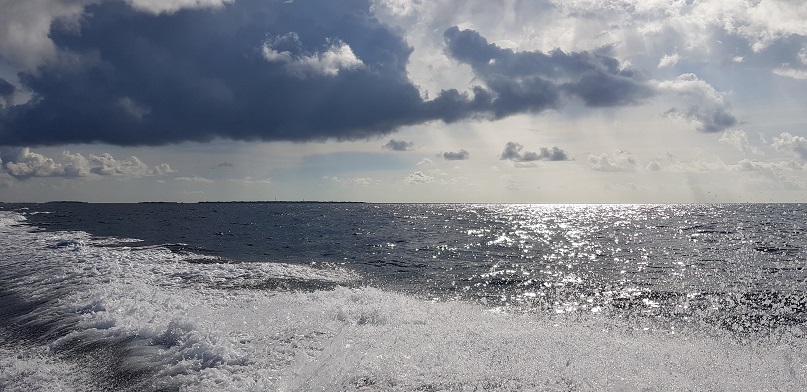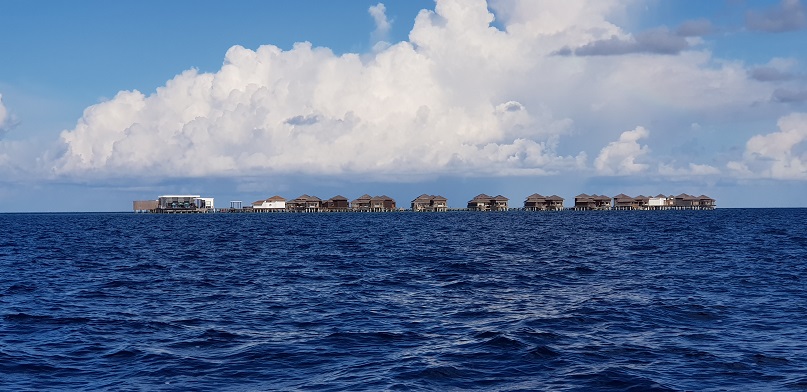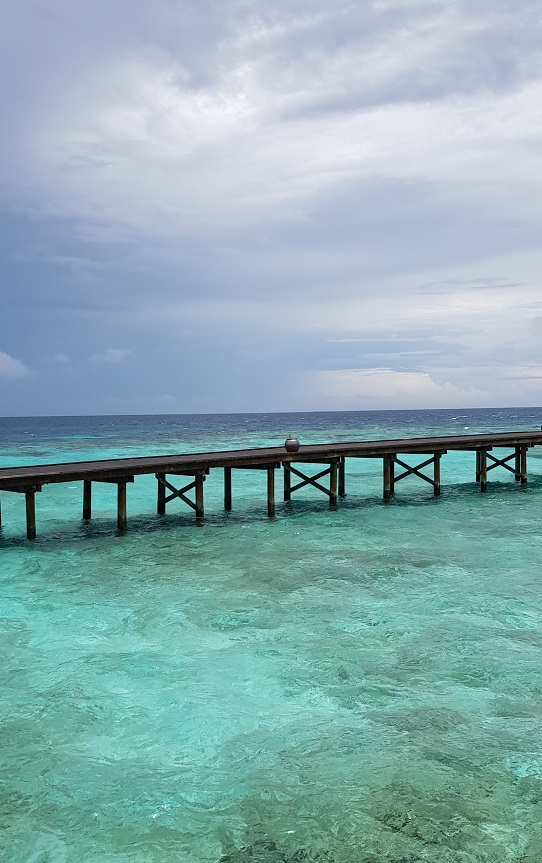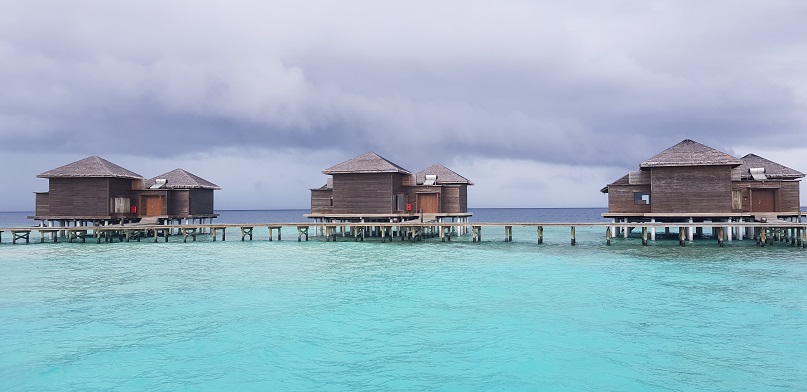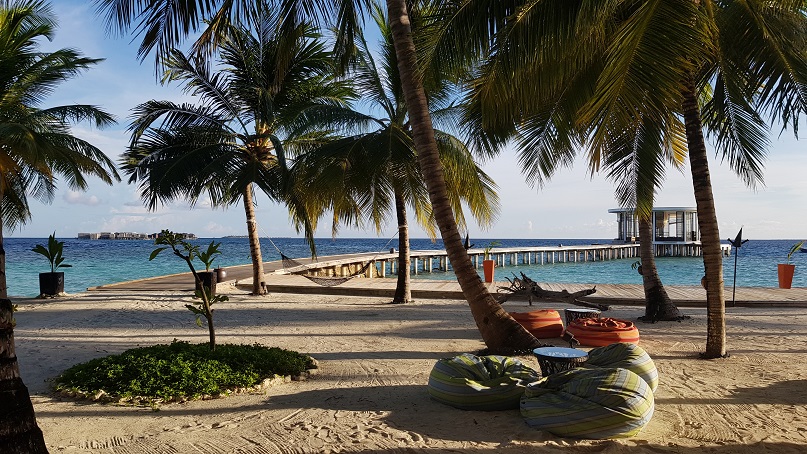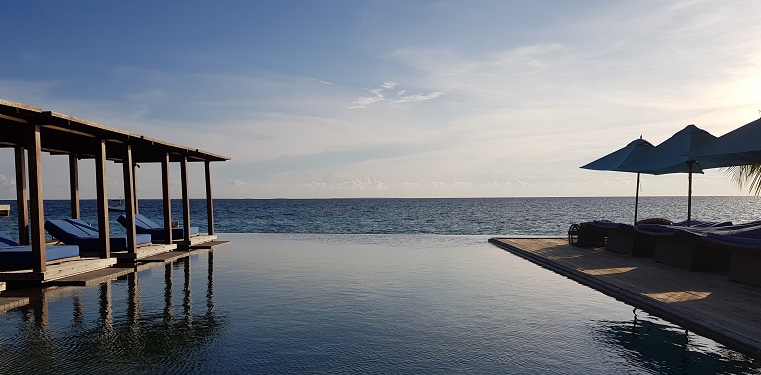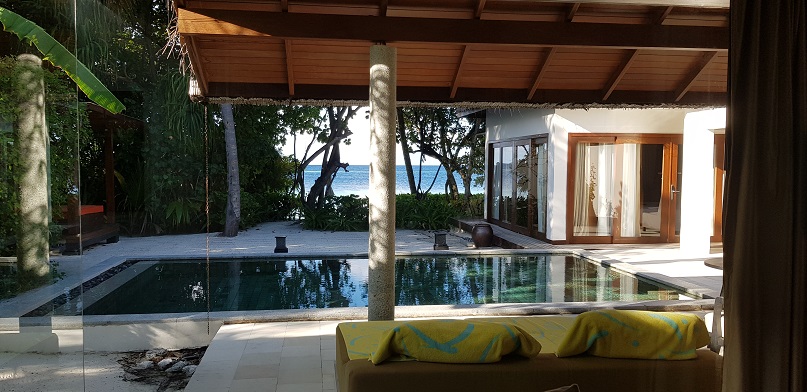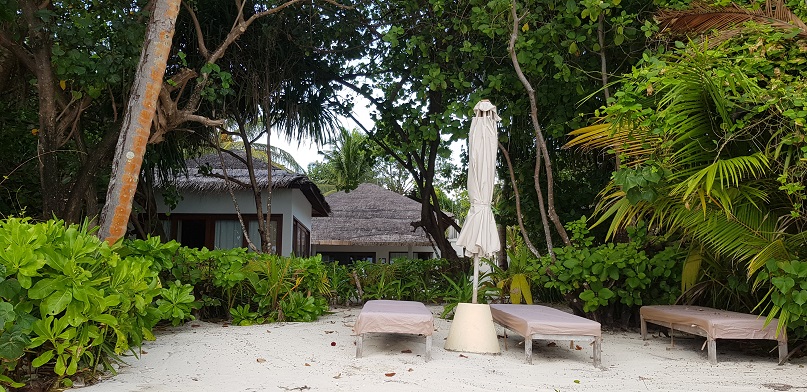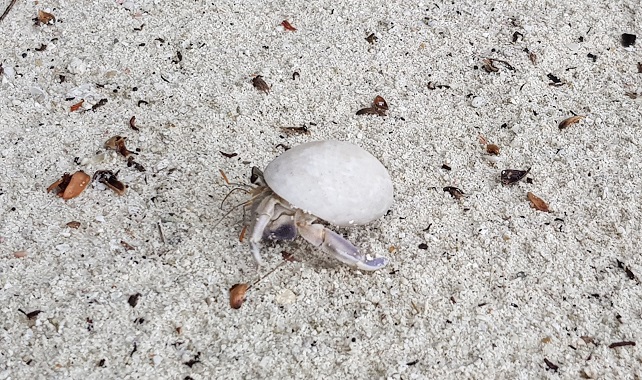 At night…not much definition, poor contrast and glary lights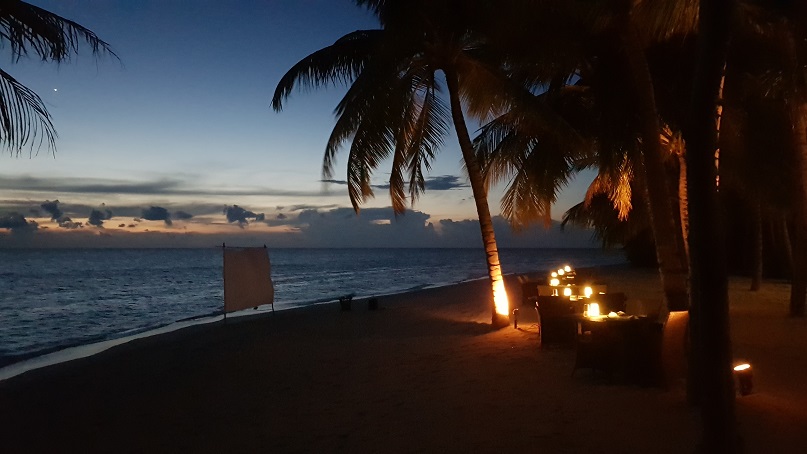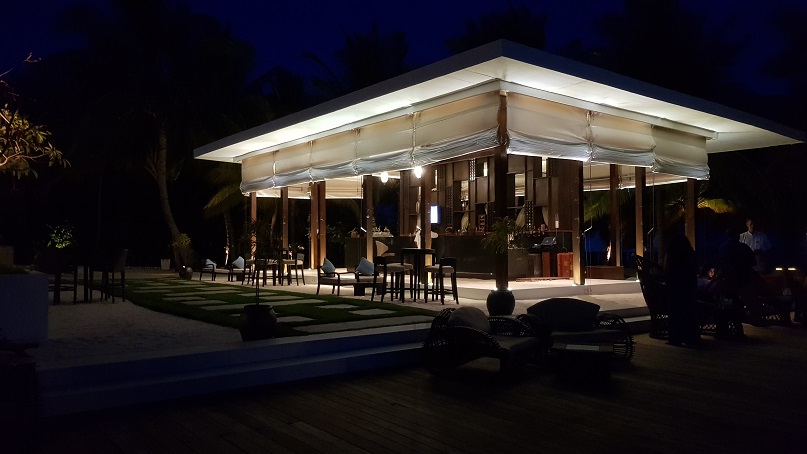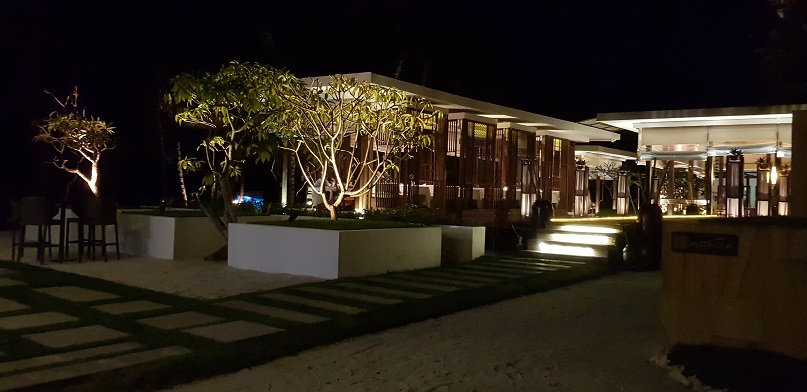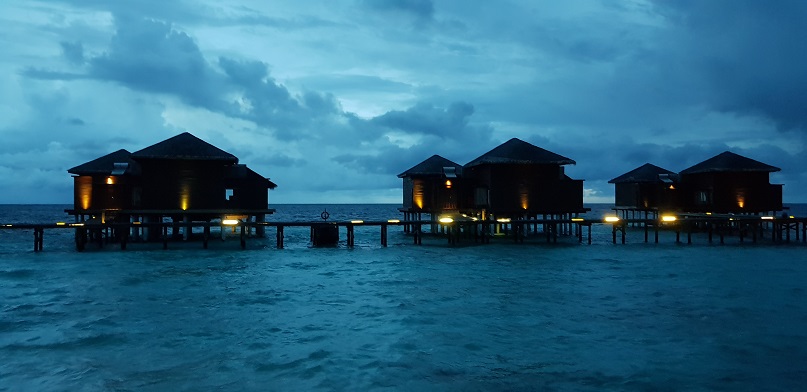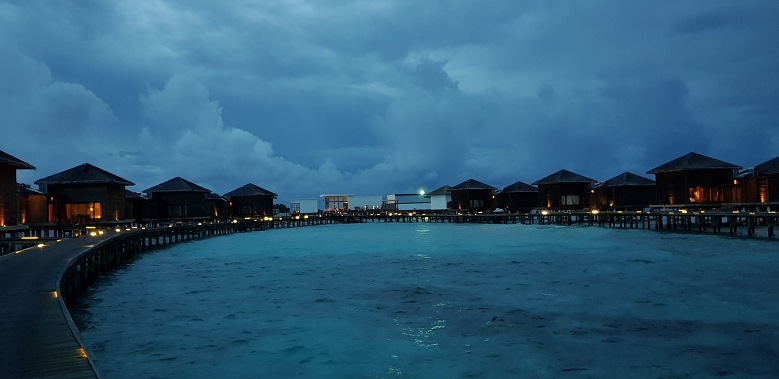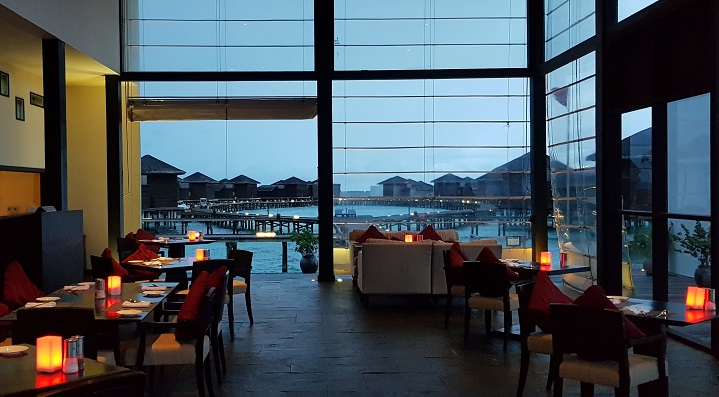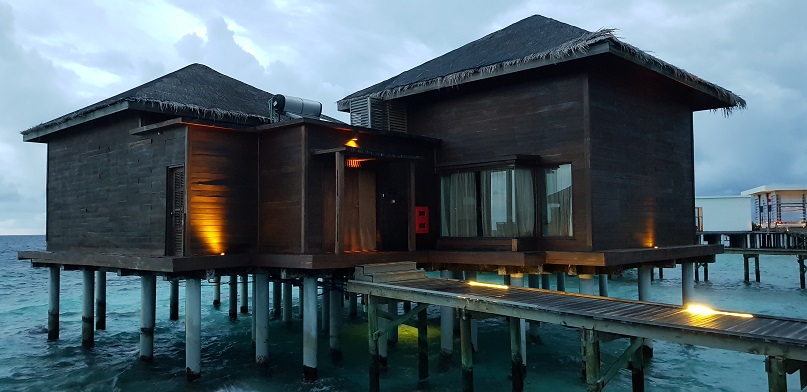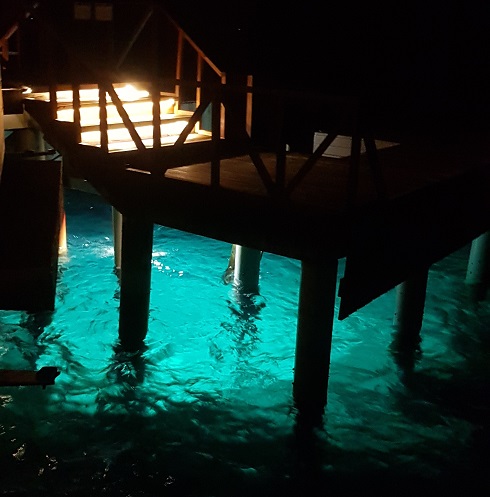 The mock up villa's in process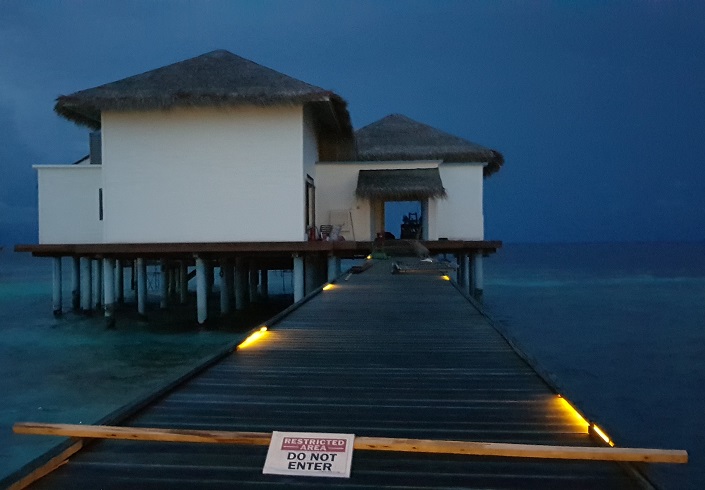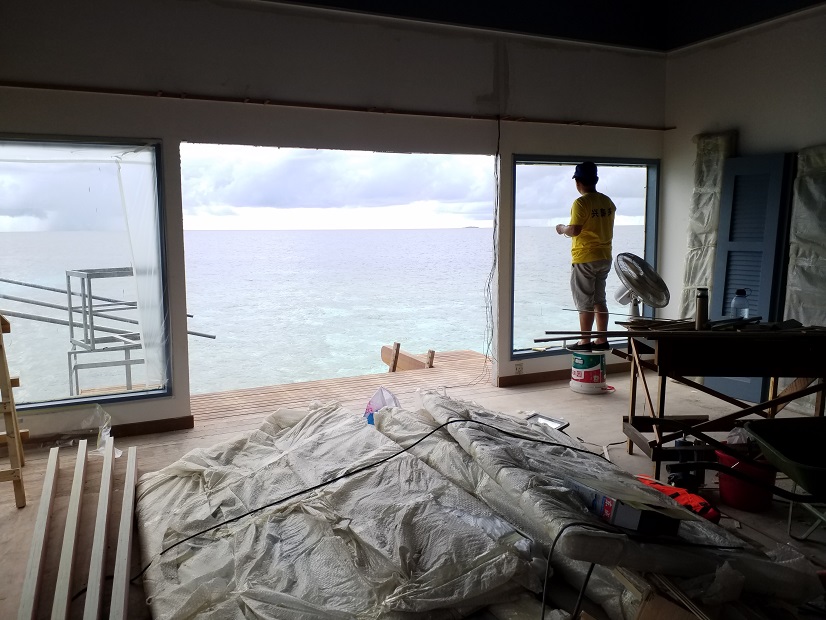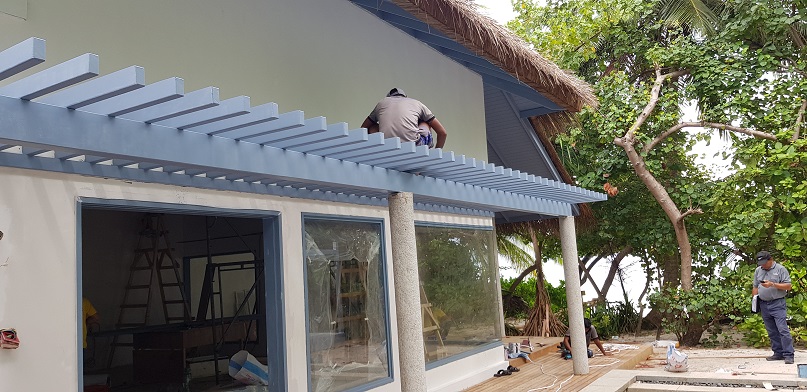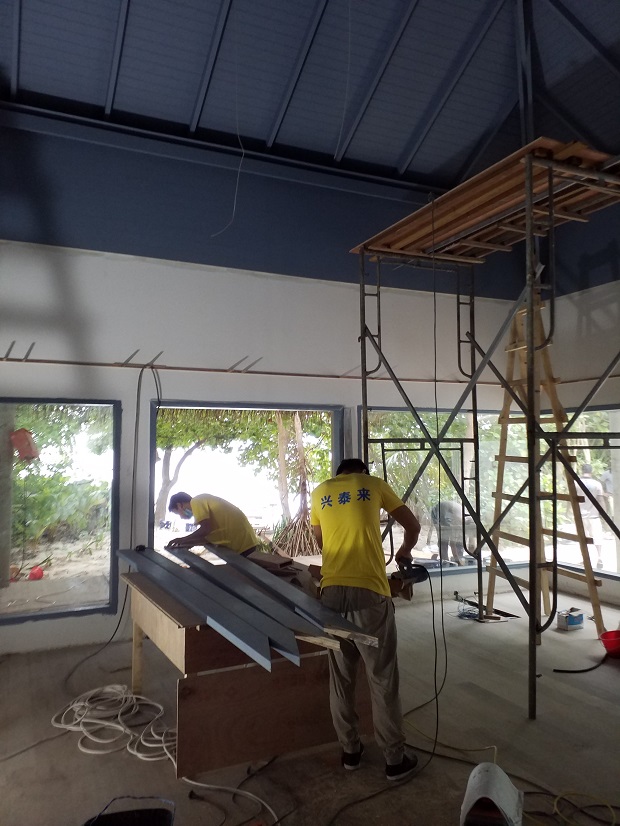 Design notes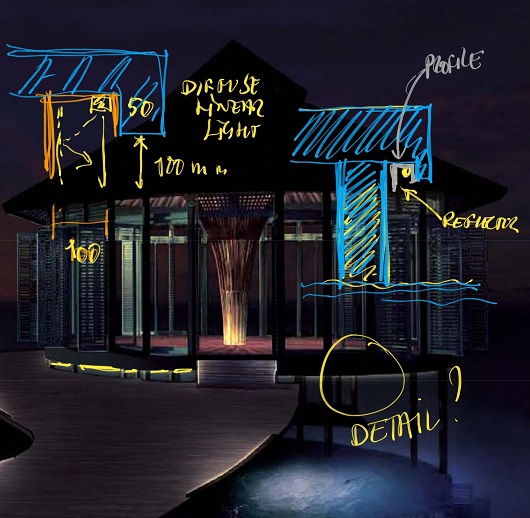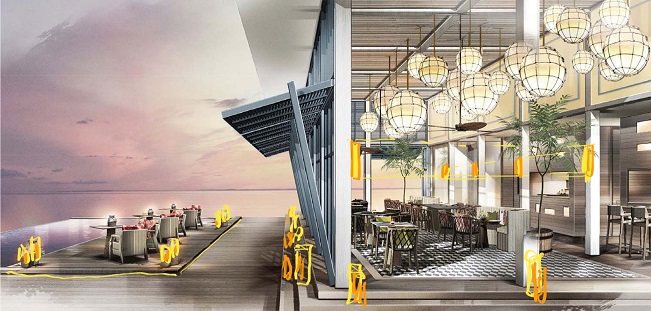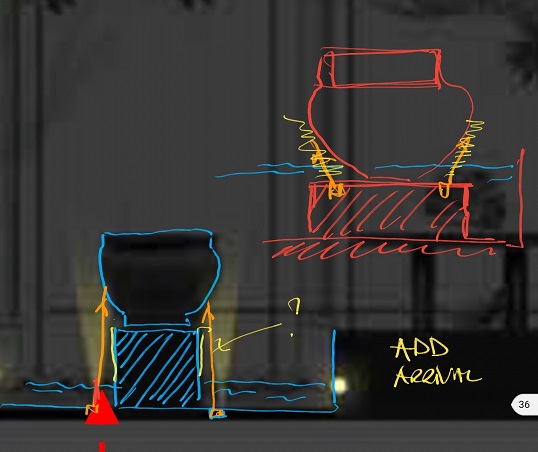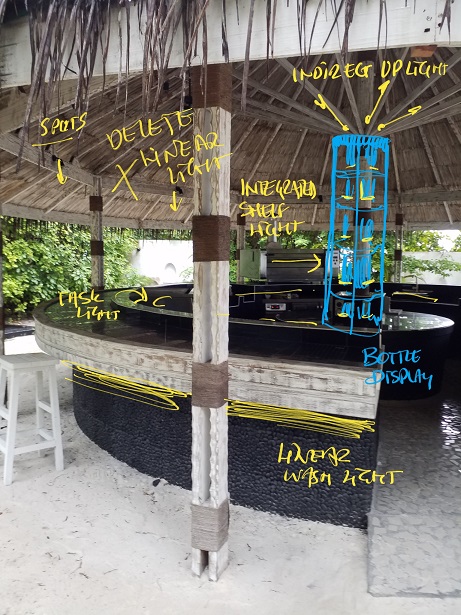 And then the rain…