The week that was … 4-8th September 2017
Singapore, weekend 9-10th September 2017
What a week it was! On Monday I had a full day travel starting with a 6.30am flight from Perth to Singapore, followed by a short transit and then onwards to Shanghai where I reached my hotel well past midnight…Pudong Airport can be notoriously busy and slow getting through and it was no different on arrival Monday, it took me more than an hour to get out of the airport to find my driver! But as I had flown comfortably in front of the plane I got my preparations for the week's proceedings all done and ready so I felt confident in my task to moderate our Lighting Design Agora at the Shanghai International Lighting Fair (SILF), a first for me!. I have always participated to these kind of events as speaker but moderating two days in a row was a totally new experience! Looking back I must say that just speaking for 45 mins is actually easier and more relaxed, but I think I acquitted myself well of my moderating task and really enjoyed directing the proceedings, introducing the speakers and leading the panel discussions. Having been instrumental in designing the concept, building the speaker program and preparing the event I felt really invested to make the event a success. Seeing and hearing the reactions of those who participated in the second instalment of this event I feel very satisfied and appreciative. The feedback was great, from the speakers, from our sponsors and from the event organisers. The Lighting Design Agora is the combined brainchild of the Chinese Lighting Design Association (Lear Hsieh), its International Advisory Council (James Wallace and myself) and Messe Frankfurt HK (Scarlet Mak). Ultimately it is our goal to develop this lighting fair to a high quality lighting designers fair (not a OEM/Product fair like Hong Kong or Guangzhou) much more in the spirit of Light & Build Frankfurt but then here in Asia. This year we made a huge step forward, with a much bigger stand, much bigger crowds and much higher quality speakers and content. It has strengthen our belief we are on the right way and we have already started planning for SILF 2018! Thanks to all that contributed and participated!
Below a day to day account in images of the event:
The Lighting Design Agora, the main stand: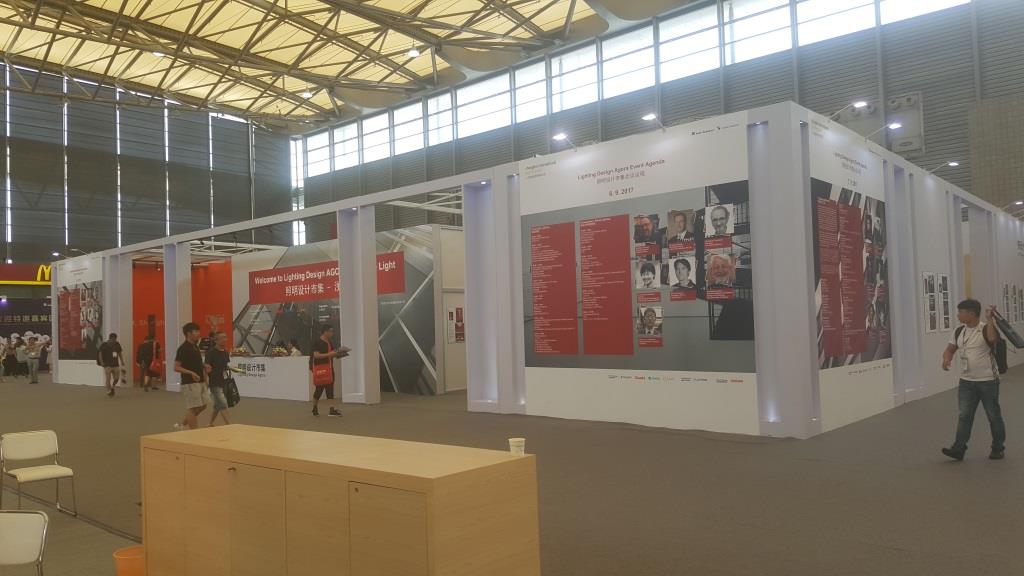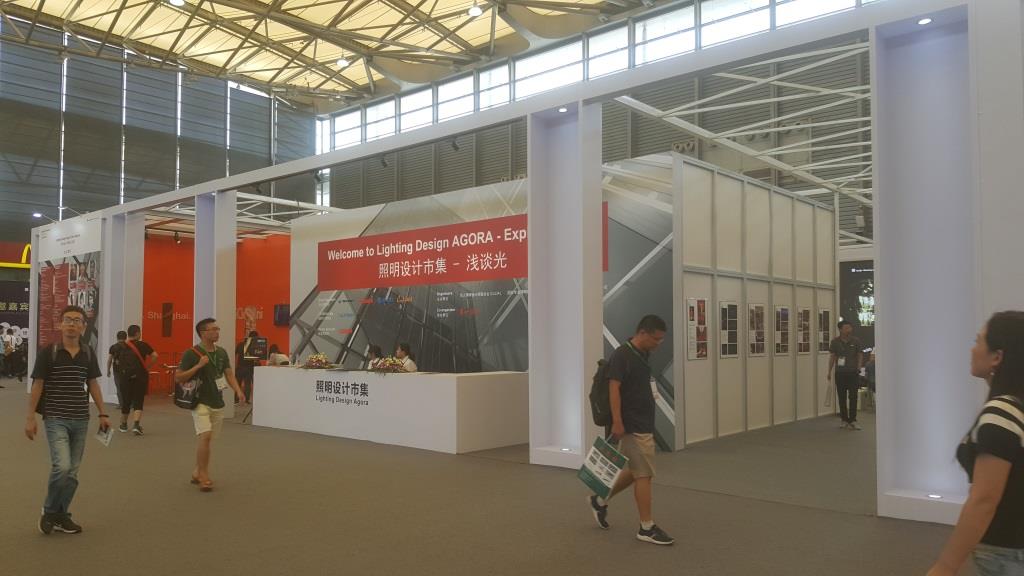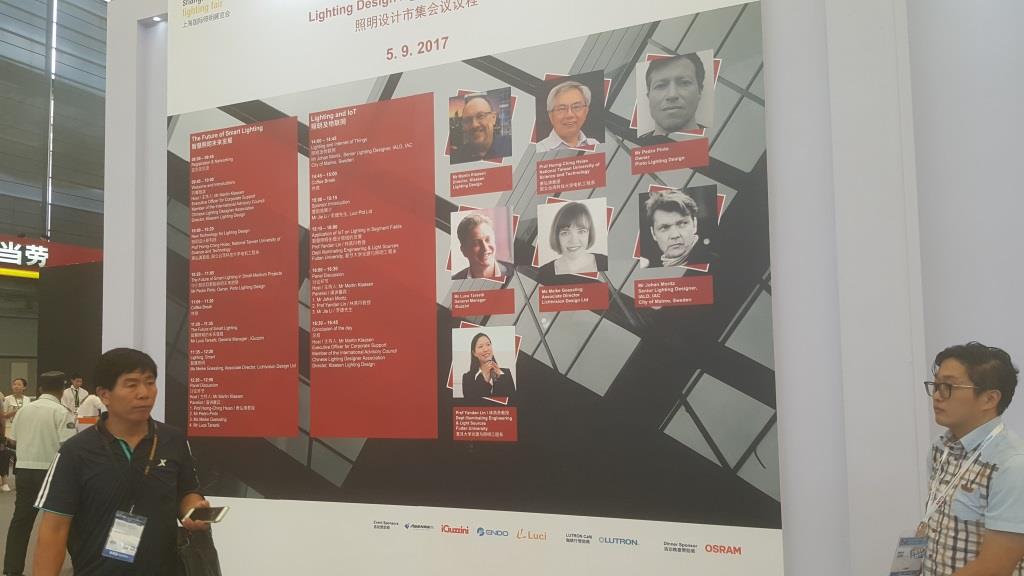 Day 1, morning session: The Future of Smart Lighting
We started the program with a keynote presentation by Prof Horng- Ching Hsiao from the National University of Science and Technology in Taiwan, who unlighted the crowd about with his topic "New Technologies for Lighting Design"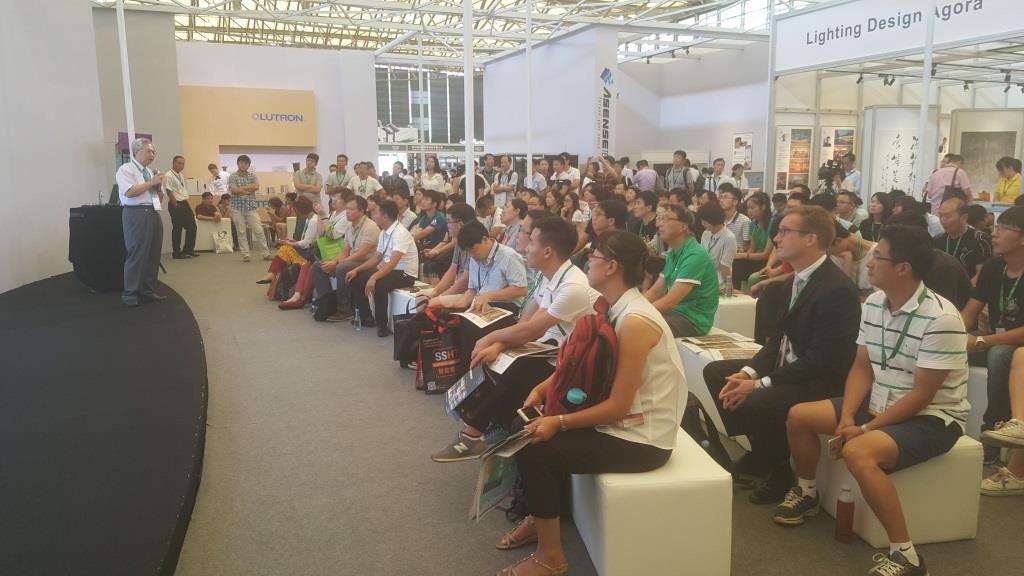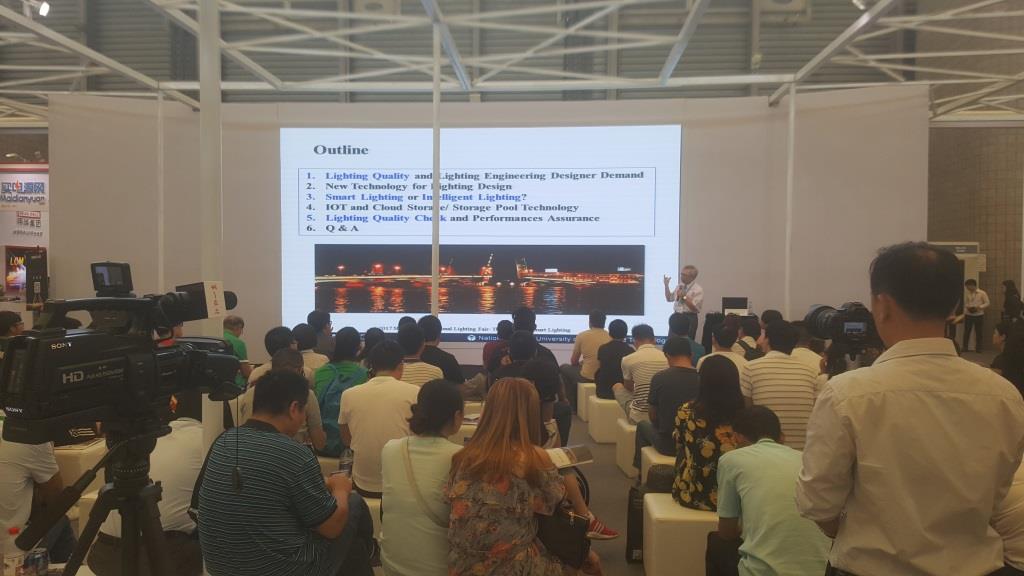 He was followed by Portugese born, UK Based lighting designer Pedro Pinto, owner of Pinto Lighting Design, who presented his views of: "The Future of Smart Lighting in Small and Medium Projects"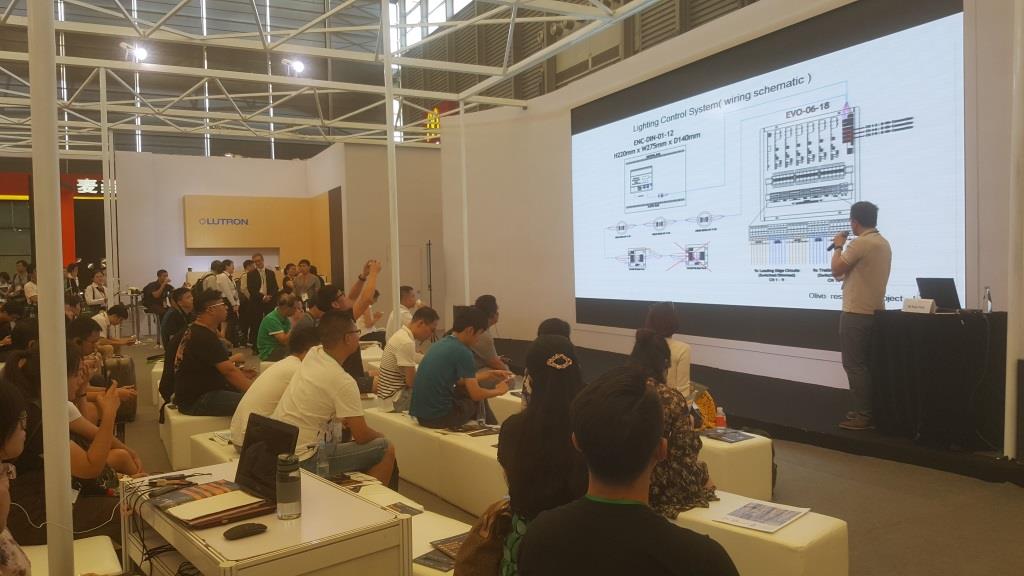 IGuzzini's Luca Tarsetti, General Manager of IGuzzini in China, then presented us the "Future of Smart Lighting" and giving us a sneak preview about IGuzzini's latest art project (Giotto's Scrovegni Chapel in Padua) after the enormous success lighting Leonardo DaVinci's Last Supper in Milano. All will be revealed coming week…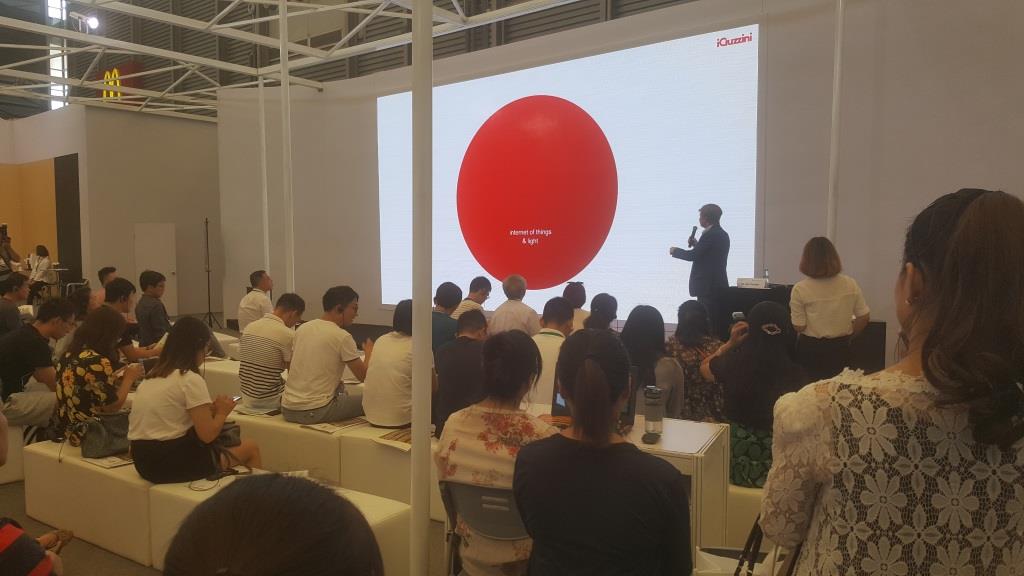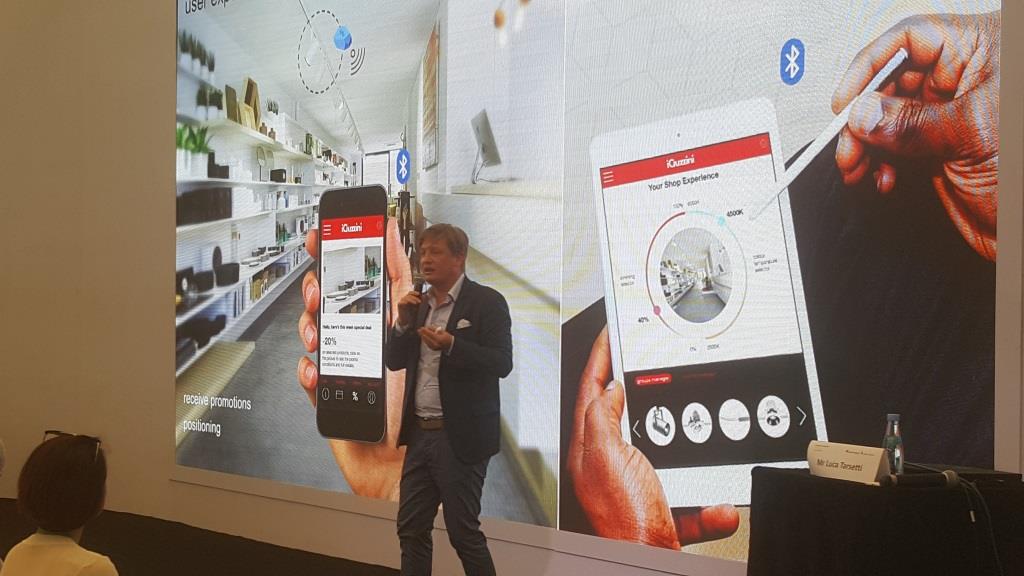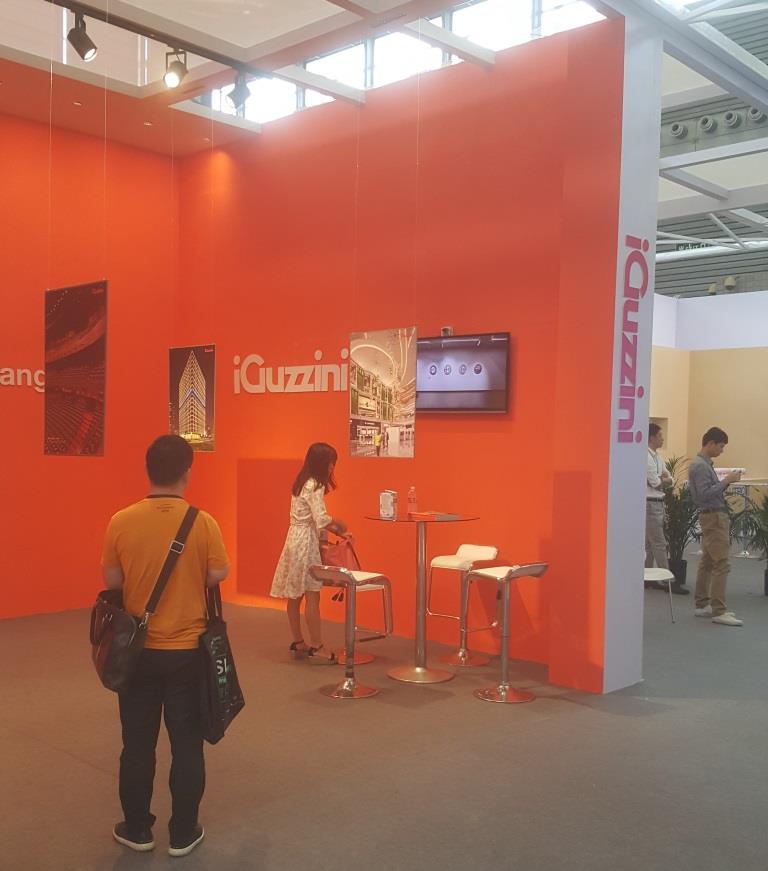 The morning speaker presentation was rounded up by Meike Goessling, an associate Director of Lightvision Design, based in Hong Kong. Her presentation was entitled "Light Smart".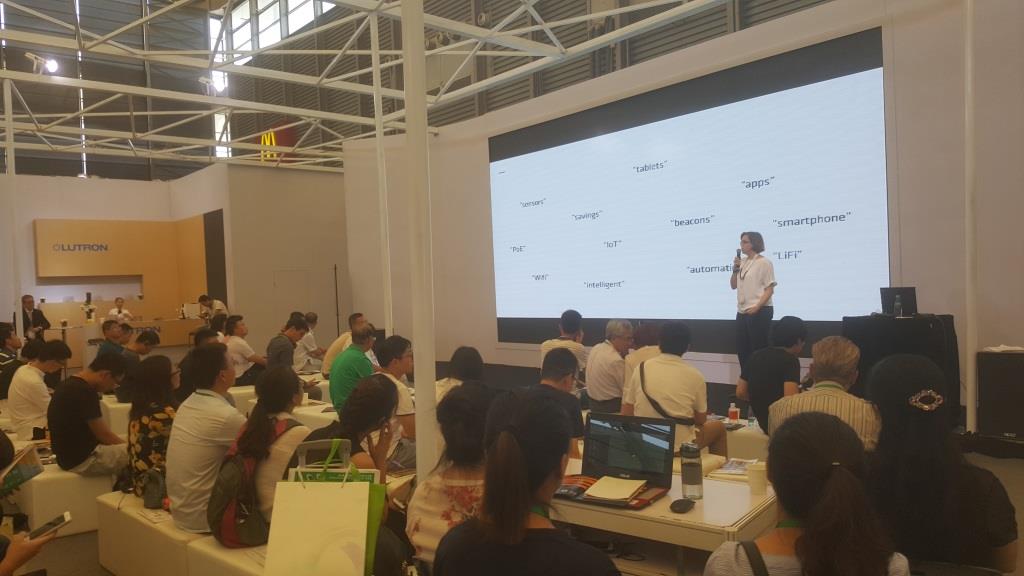 All speakers then joined me on stage for a panel discussion about the various subjects, challenges and opportunities generated by their respective presentations. It rounded up our morning session about the Future of Smart Lighting. Big thanks also to our simultaneous translators which made all presentations go smoothly!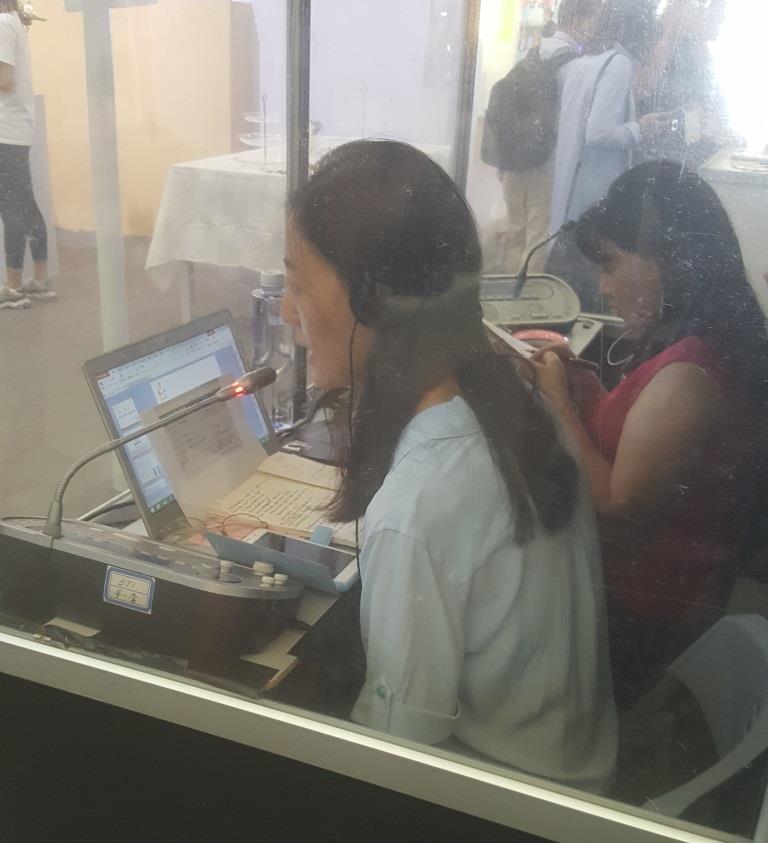 Day 1, afternoon session: Lighting and the IoT
Not surprisingly we followed up the morning topics with a session on the Iot and Johan Moritz, a senior lighting designer with the City of Malmo in Sweden, kicked off the proceedings with his presentation about "Lighting and the IoT".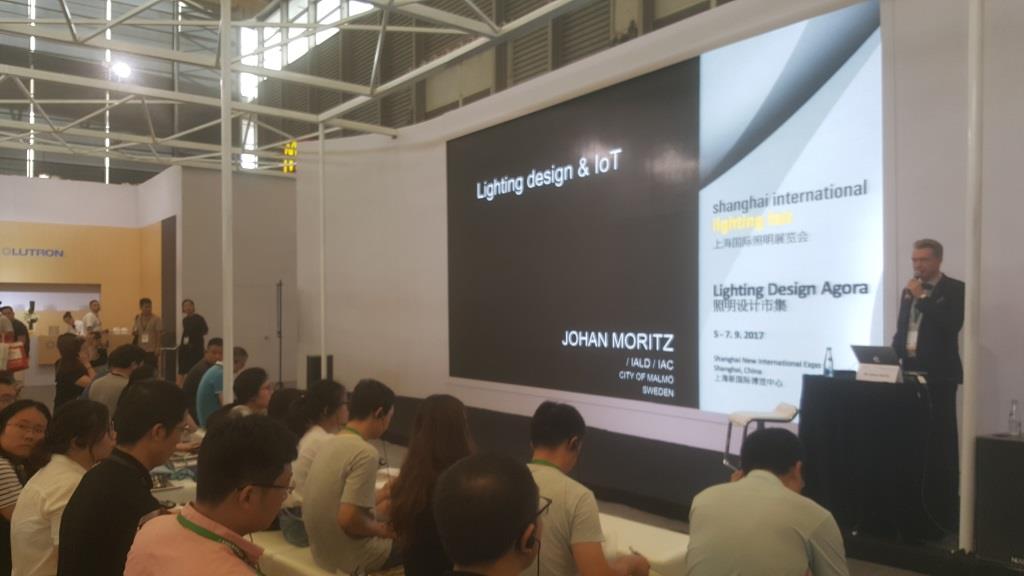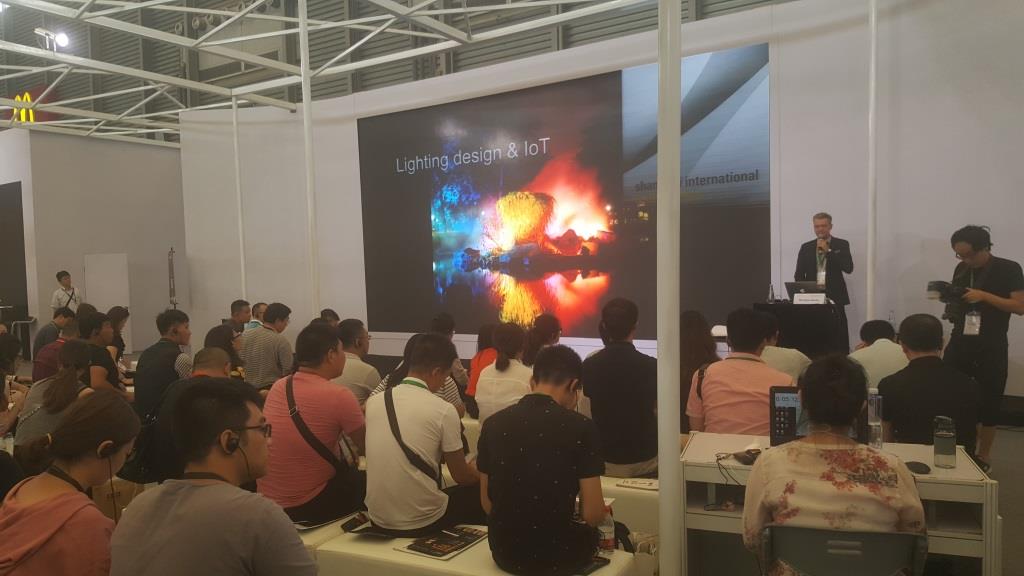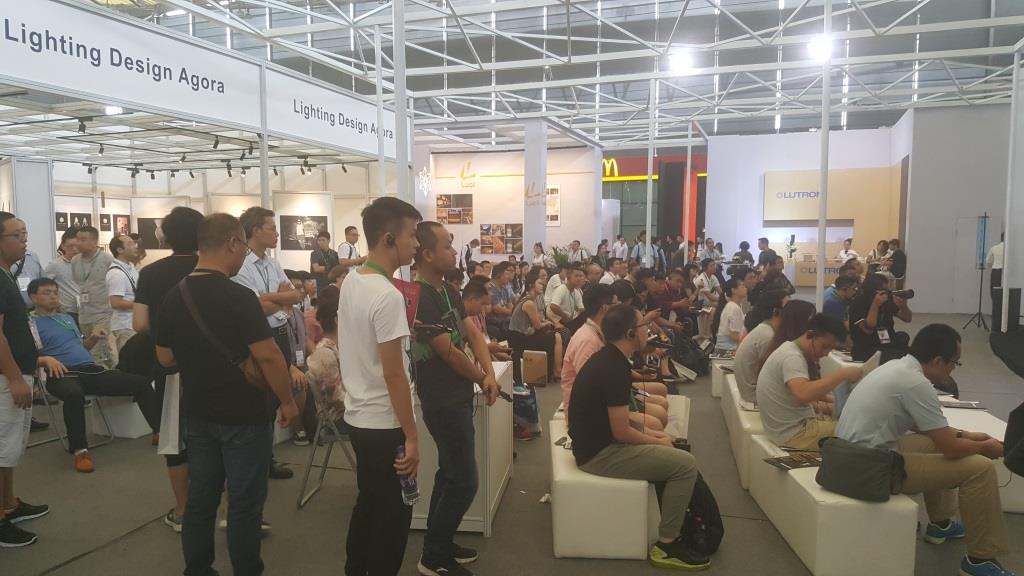 Our second sponsor, Luci, followed with an interesting presentation by Mr Jie, Luci's manager in China, about the impact of Iot on lighting products and their controls.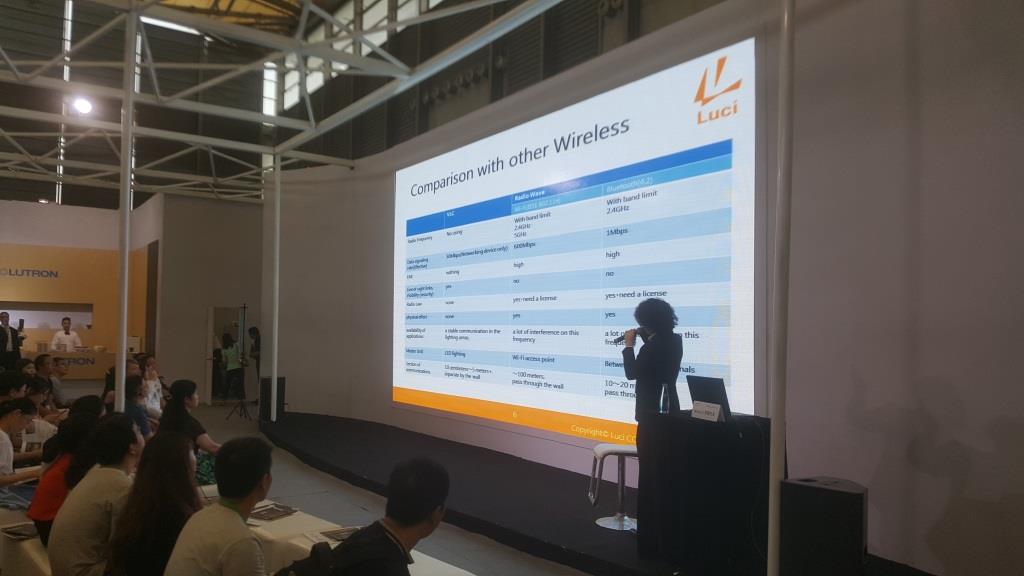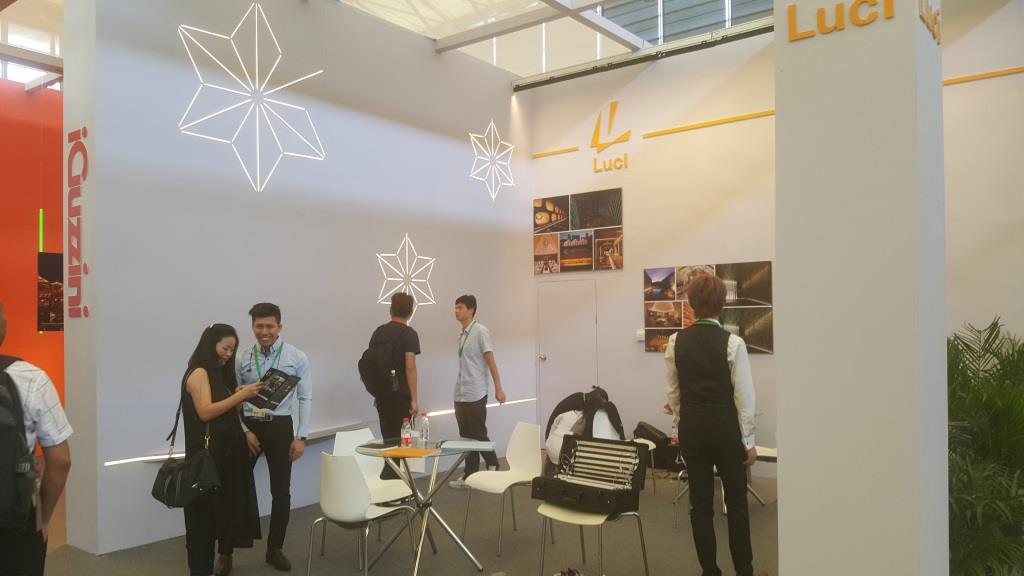 "The application of IoT on Lighting in Segmented Fields" was presented by Prof. Yandan Lin from Shanghai's Fudan University's Department of Illuminating Engineering and Light Sources.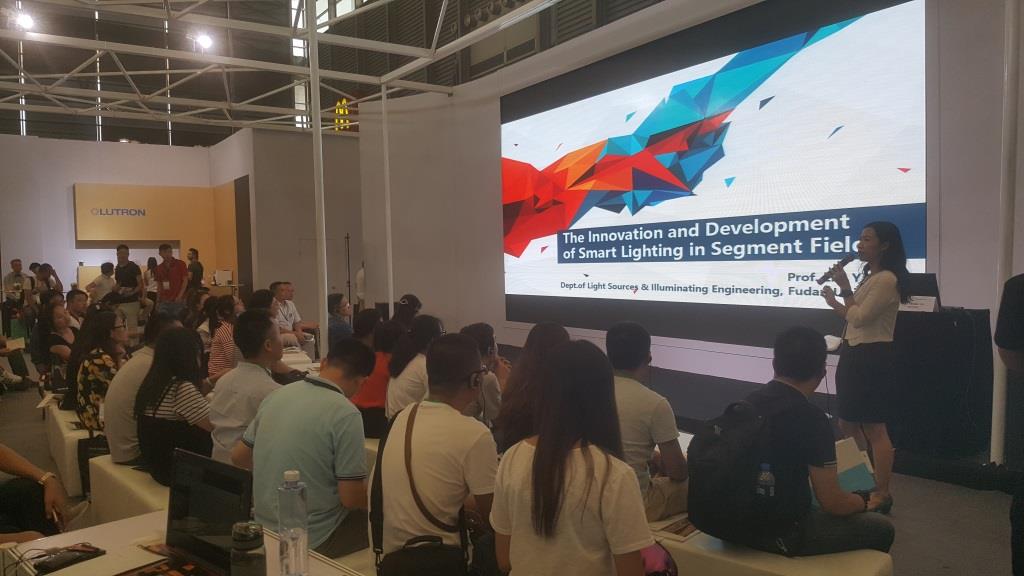 I then rounded up the day moderating a lively panel discussion involving all presenters of the afternoon session. The IoT is obviously on people's minds!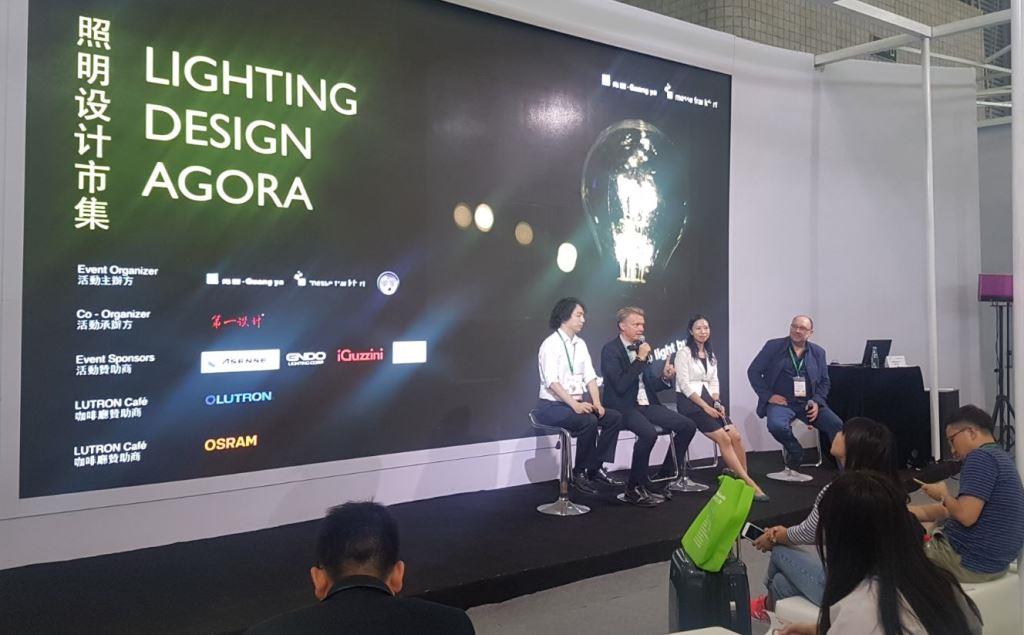 Day 2, morning session: Hospitality Lighting
Day 2 was purposely aimed at trendy applications in lighting. In China specifically and Asia in general a big majority of projects are in the hospitality so it made sense to us to dedicate some time to it.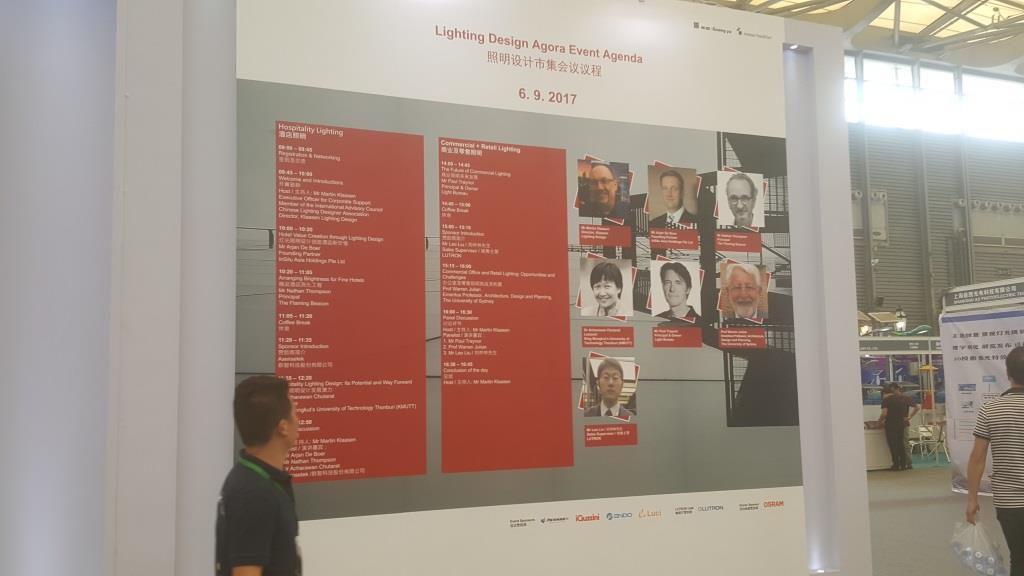 Our keynote speaker starting the day was the founding partner of InSitu Asia, Mr Arjan de Boer, based in Singapore. As a previous hotelier with Alila and Regent Hotels and now developer and investor with many interests in Asia, we were blessed to have a non-lighting designer giving us insights of how good lighting design makes sense from a financial and value added perspective. His presentation "Hotel Value Creation through Lighting Design" was highly educational for everyone.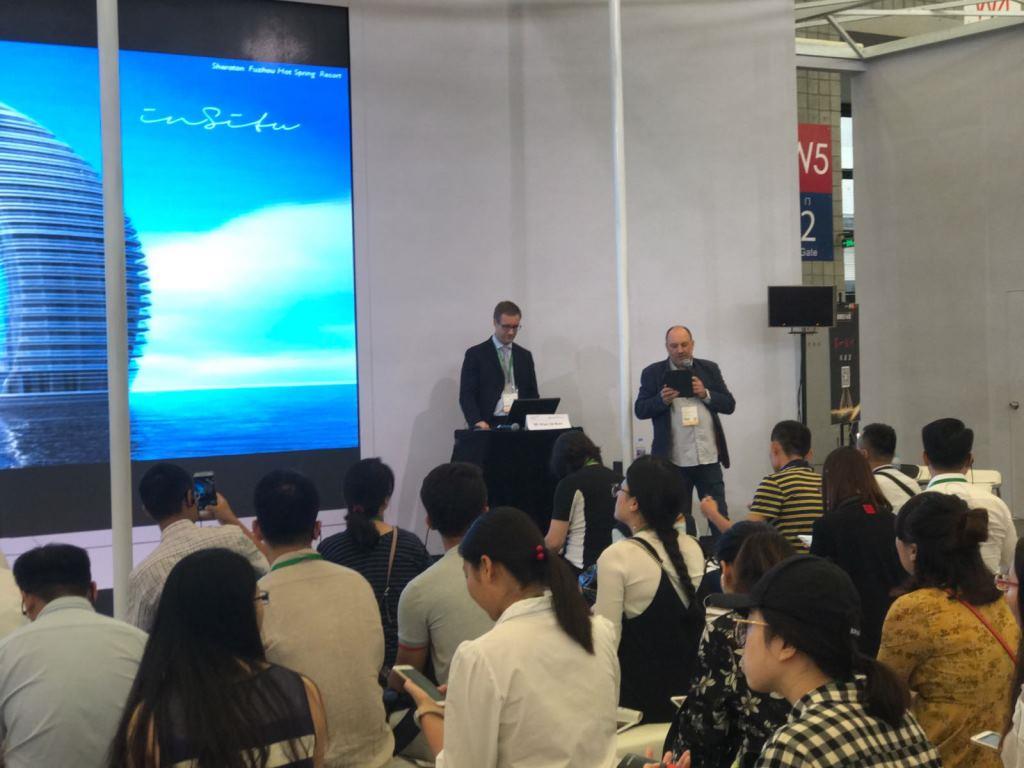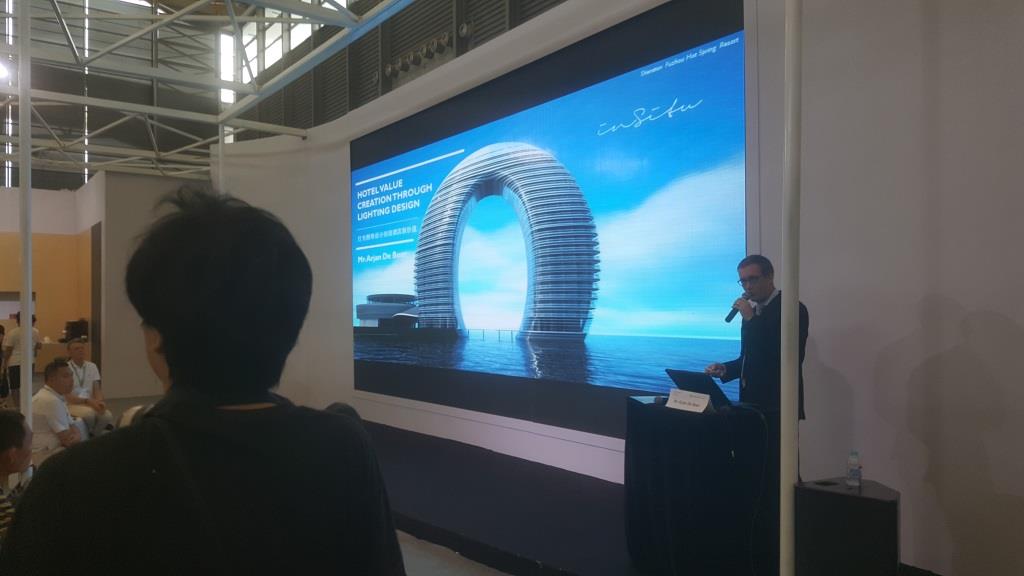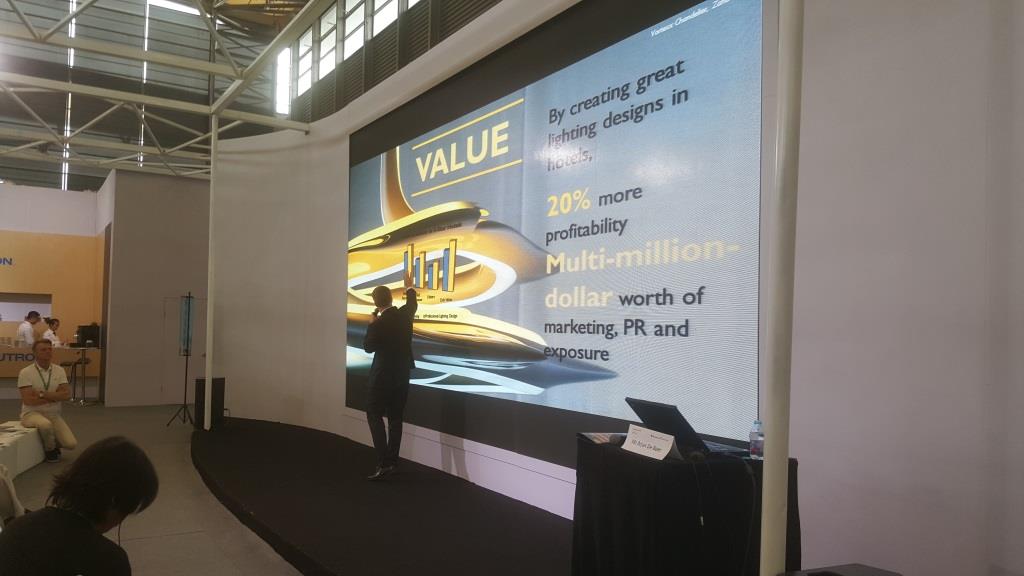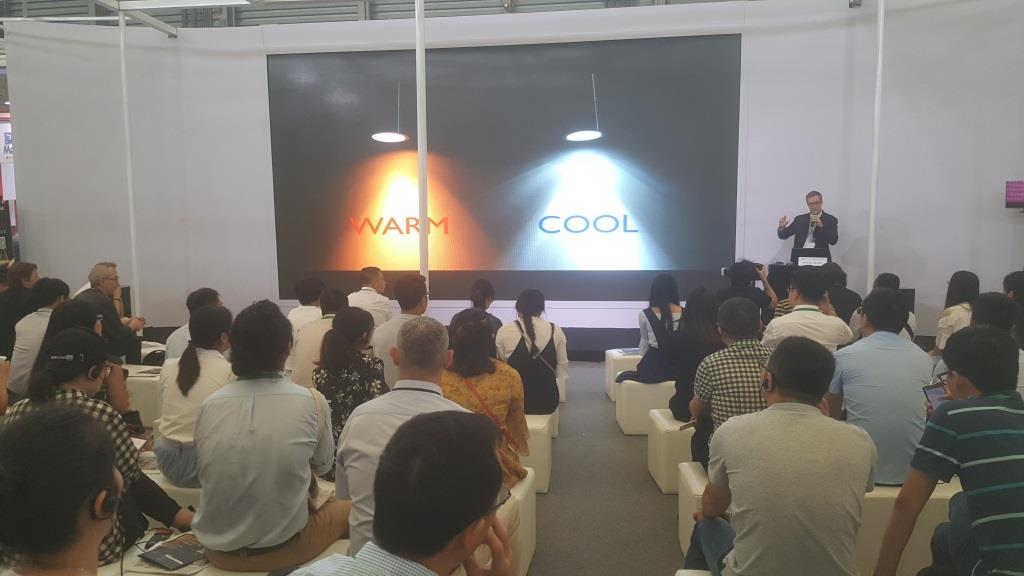 Having subsequently one of the top hospitality lighting designers, Nathan Thompson, principal of the Flaming Beacon from Melbourne Australia, speaking about "Arranging Brightness for Fine Hotels" was a perfect choice and follow up. The imagery was a delight to watch for all.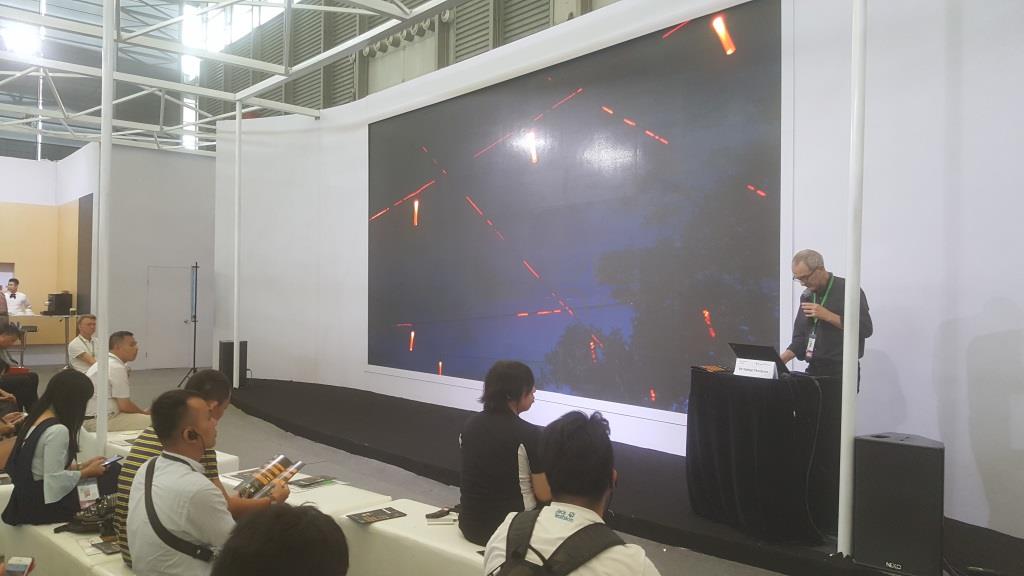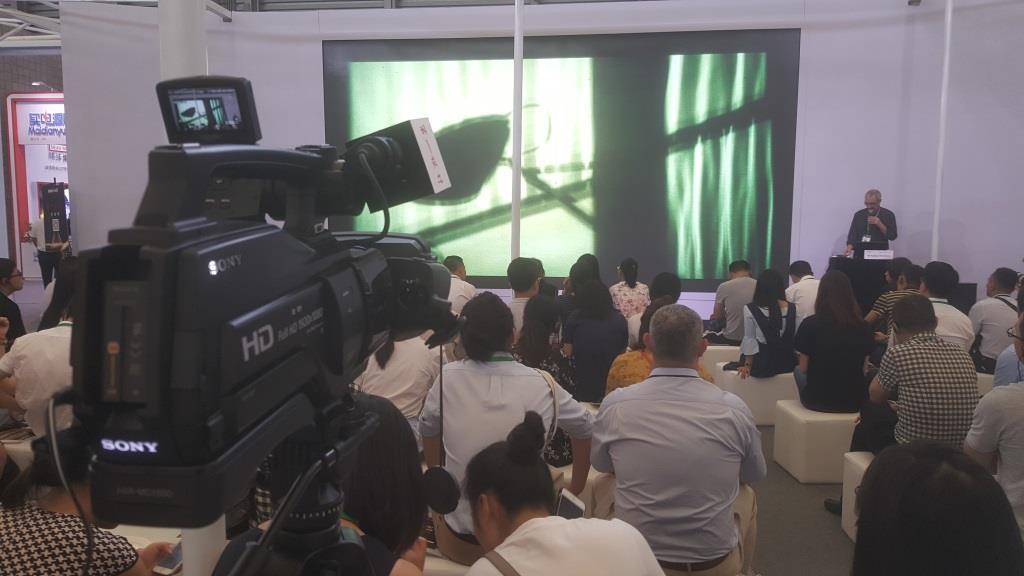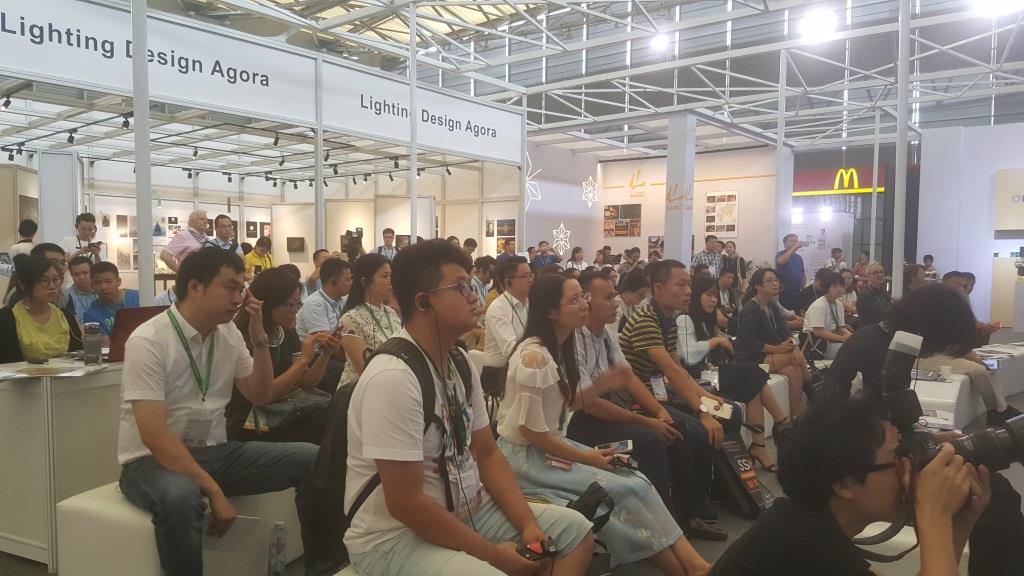 While perhaps an odd one out the following presentation by our third sponsor by Mr Frost Chou from Asensetek did make "sense". Asensetek produces very high quality spectrometers and many lighting designers use the tool and software to verify manufacturer claims about lighting performances. I have been an enthusiastic user for the past few years.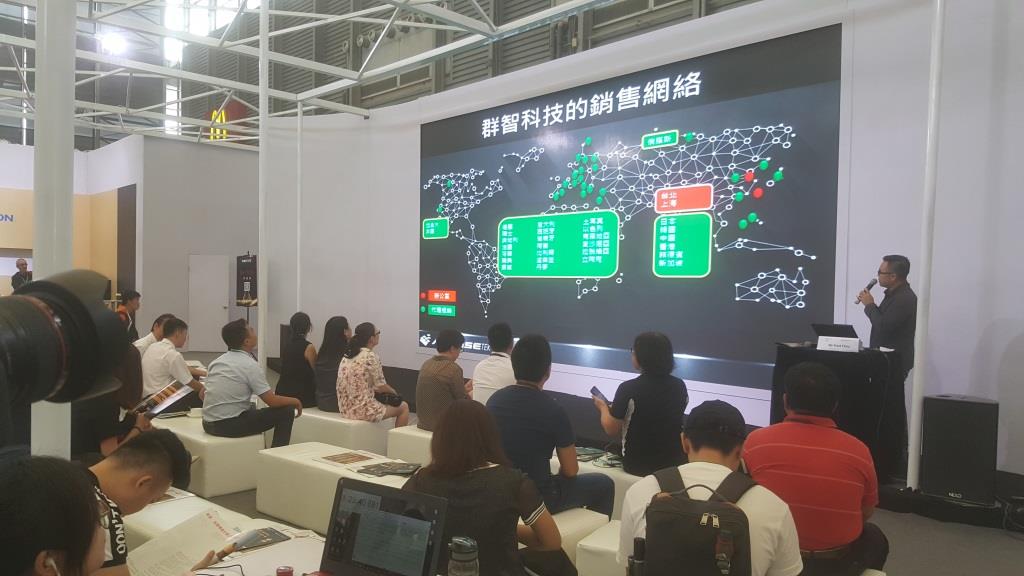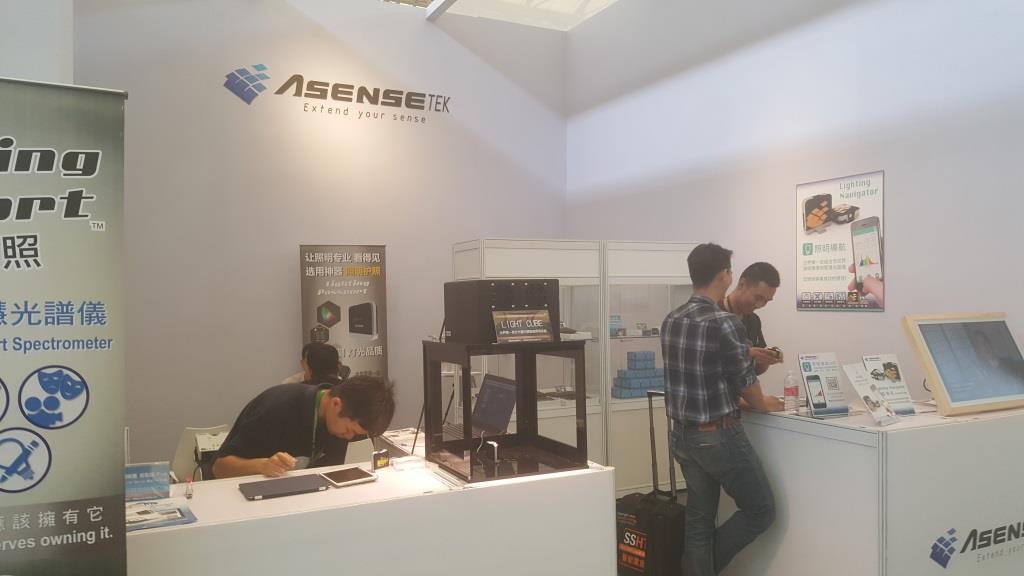 Dr Acharawan Chutarat ("Acha"), a lecturer at Bangkok's King Mongkut's University of Technology ThonBurri (KMUTT), completed the morning speakers with her engaging presentation" Hospitality Lighting design; its Potential and Way Forward"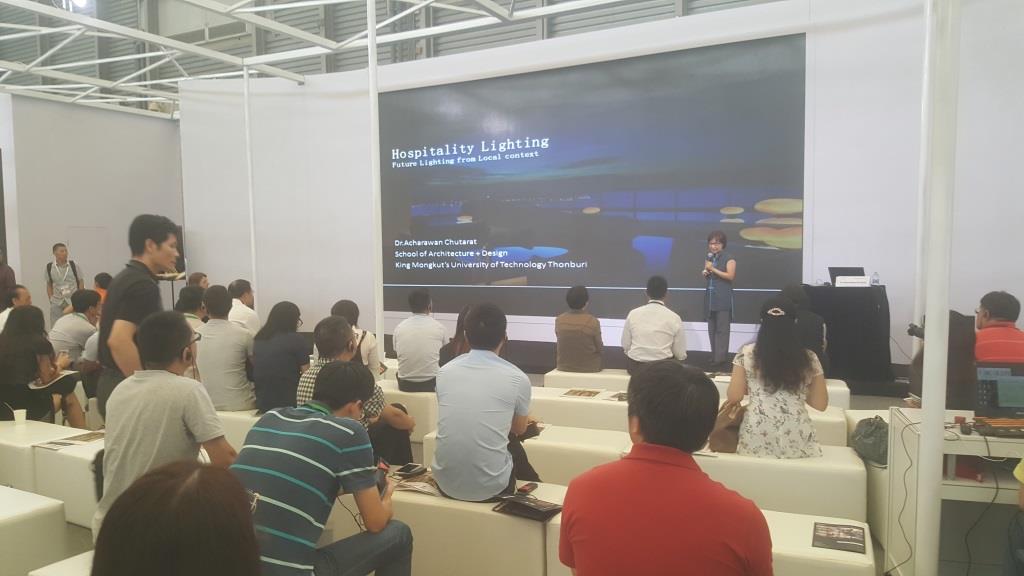 The morning speakers then joined me on stage for the panel discussions and questions from the audience.
Day 2, Afternoon session: Commercial and Retail Lighting
Like hospitality lighting, this session also touches on one of the most popular applications in this part of the world and we were grateful to see the afternoon session kicked off by Paul Traynor, Principal and Owner of Light Bureau form the UK. His presentation entitled simply "The Future of Commercial Lighting" in reality touched upon everything that is relevant in today's lighting world, smart lighting, circadian lighting and lighting as a service. Specifically this last topic is one that we need to keep an eye on and one that I personally have also included in many of my presentation as kay subject of the future.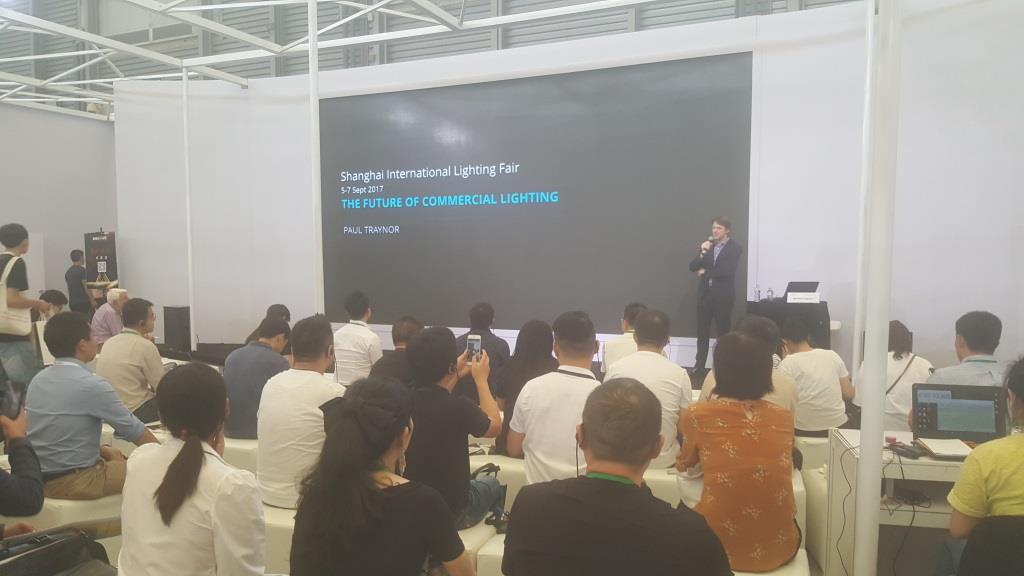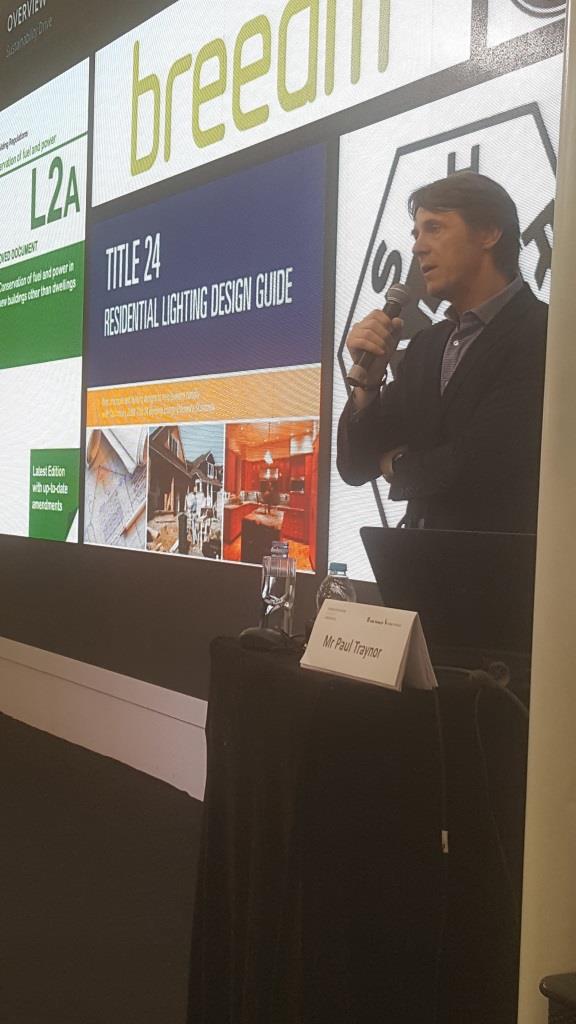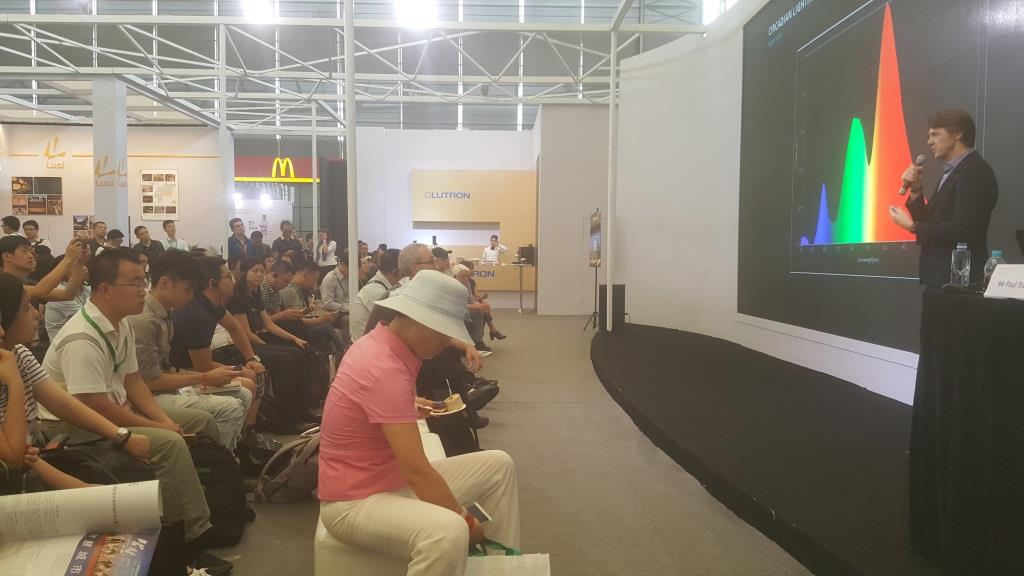 Mr Leo, Lutron's sales manager in China then gave an engaging presentation about the opportunities and challenges of lighting controls in the new world reality of smart lighting and the IoT. Having paired up with Apple, it seems that Lutron is geared up for the future…Lutron was the proud sponsor of the Lutron Coffee Bar, a place where many of us made stops for a coffee shot!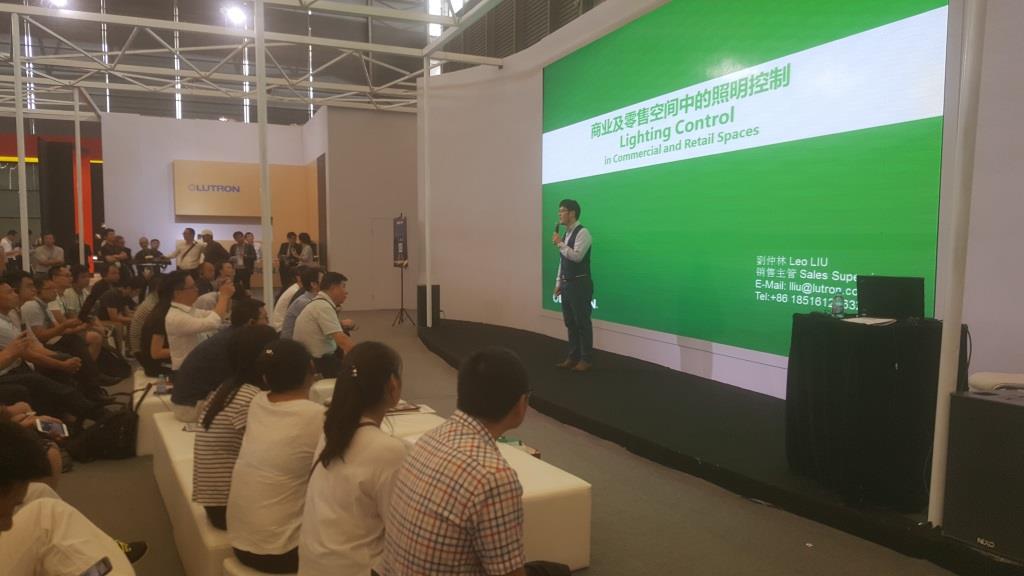 No other then Warren Julian, emeritus professor Architecture Design and Planning at the University of Sydney had the honours of closing out the event with a master class presentation entitled "Commercial Office and Retail Lighting; Opportunities and Challenges". Whoever had planned to leave, changed their minds and we ended the day with a spellbound full house audience!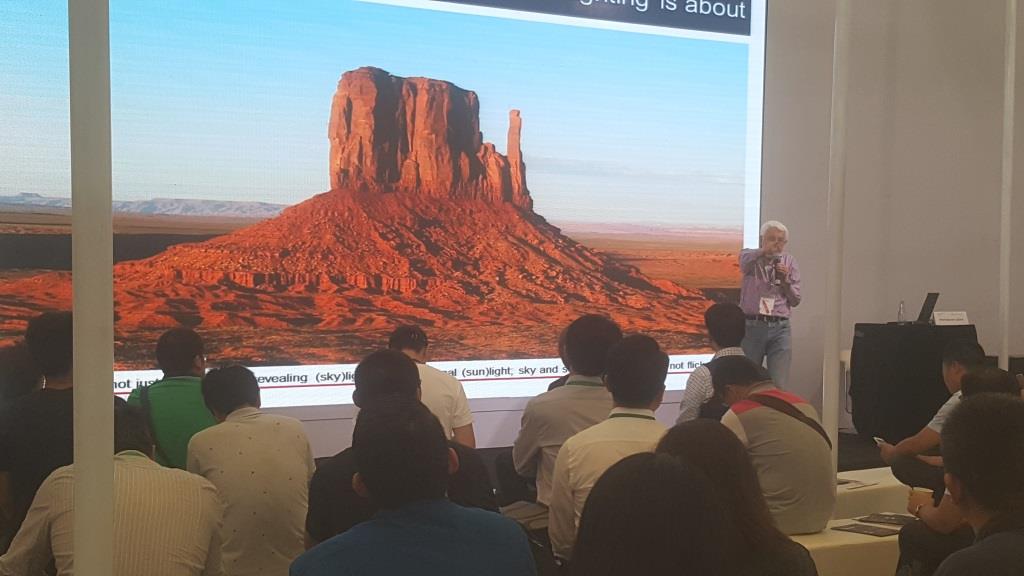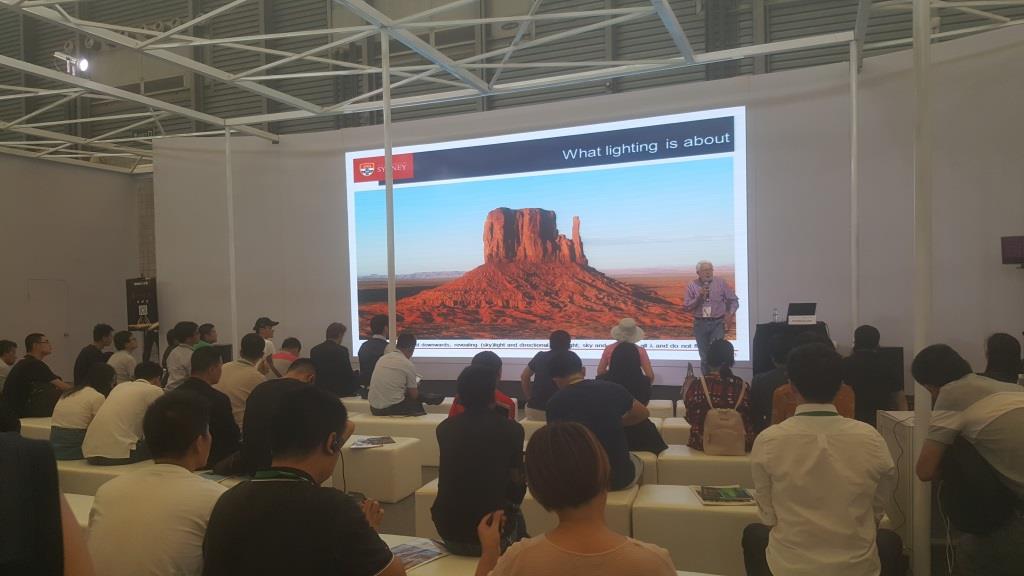 It was not surprising that the ensuing panel discussion had many tongues wagging with Warren at one point leaving the stage to give the audience direct pointers showing lighting principles and effects applied in parts of the Lighting Design Agora stand, great stuff.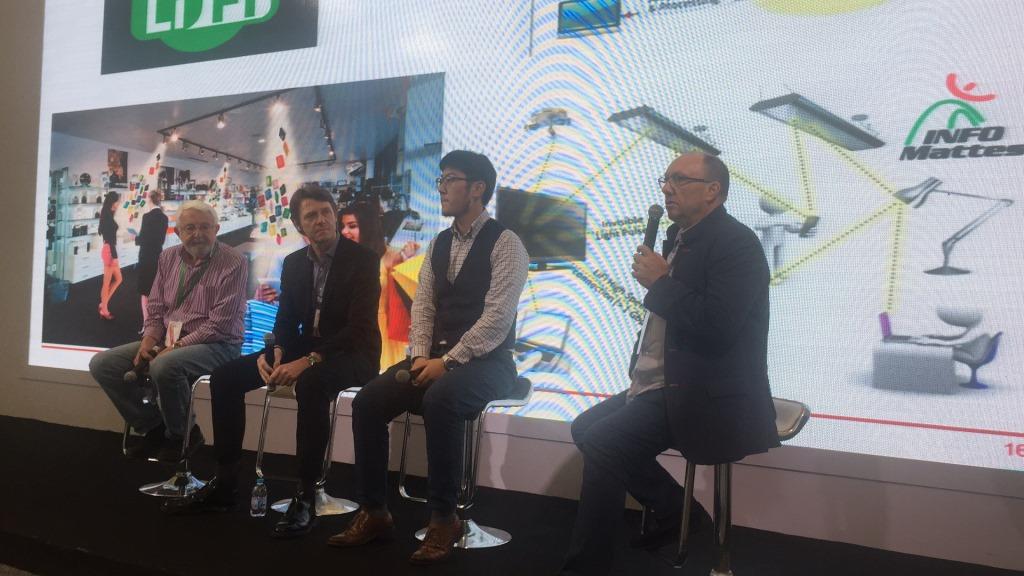 Day 2, Evening Gala Dinner
The international part of the event was concluded with a Gala dinner in the evening sponsored by Osram. It was a moment to thank all participating speakers, acknowledge all the sponsors and give thanks to the CLDA, the IAC and Guangyia / Messe Frankfurt for their untiring support to the event.  Thank you so much for making this such a success!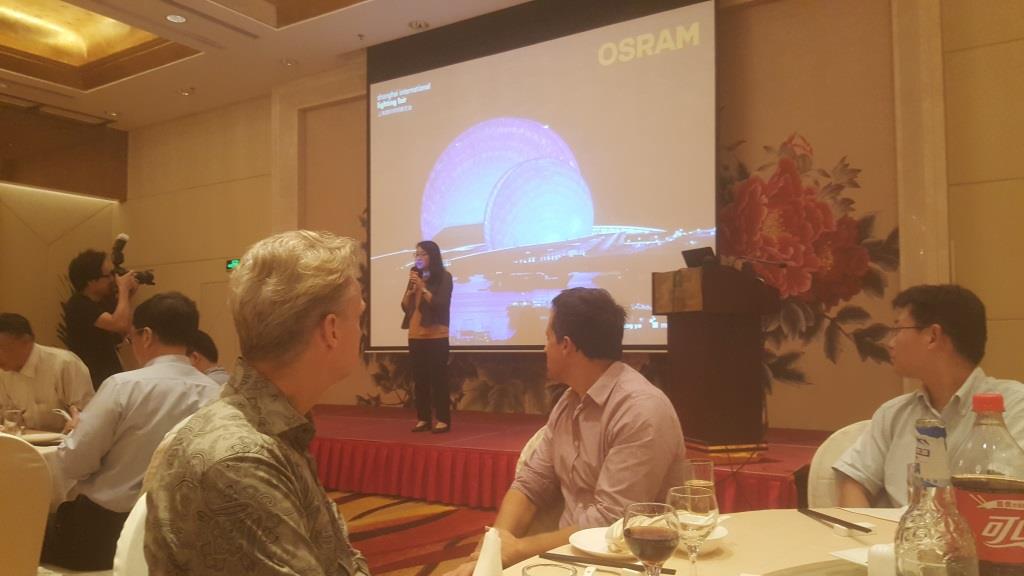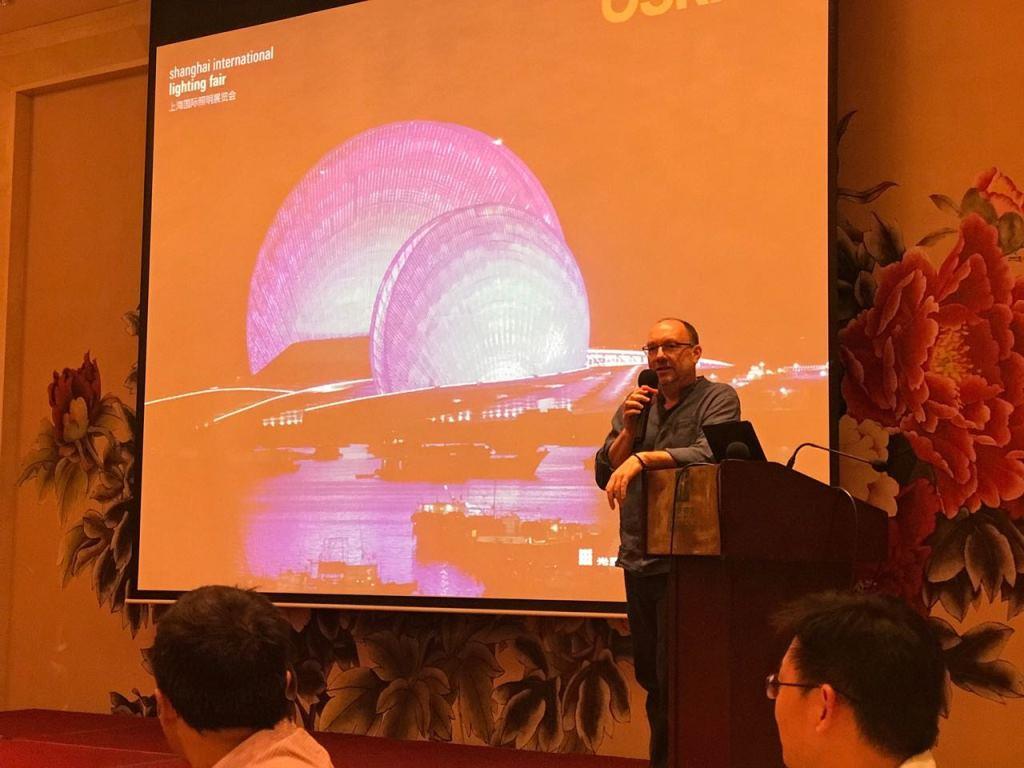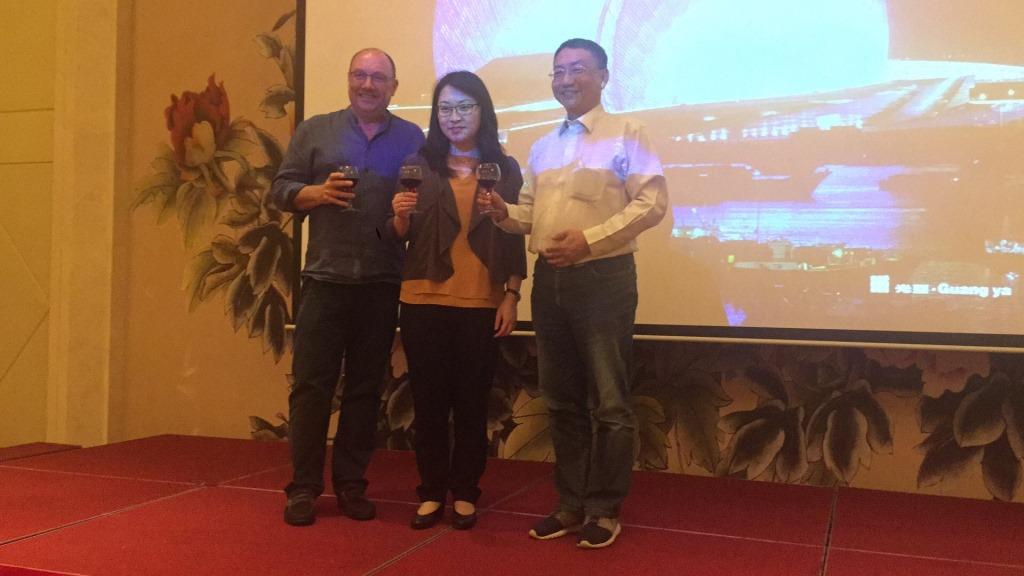 See you next time at SILF in 2018!