Less is more
Singapore 6th September 2011
Since I am picking bones, I have another one that has been bothering me for a while. One that is not easy to escape as everybody sort of wants to be trendy and be seen using LED's. I am talking about those full illuminated multi-media facades. We used to use a couple of 2 KW floodlights to light up a façade, now we smash a few kilometres worth of linear LED lights on the façade and call it energy saving! What, really? The ends to justify the means!
I am referring to the Financial Centre in Singapore, 200+m high, and in its latest renovation that sees a full height façade lighting using no less than 120,000 LED according to the news report a few days ago. They call them power saving LED's. Yes sure they are but if you use 120,000 of them it's a hell lot of energy still. The central business district is being stimulated by an incentive scheme from the government to boost the liveliness of the inner city, but does that mean that we have to fill every mullion and architectural niche in the façade with LED light and then connect it to a DMX controller to let loose an seemingly uncontrolled array of lighting effects? And since when do we spend millions of dollars on façade lighting? In the old days of floodlighting a few  hundred thousand dollars was all we needed!
I am disappointed with the lighting designers that there does not seem to be any thought to really do something about our environment. Selling the story, as we see now so often with the slogan; "LED is energy saving and long life, so 'its good", does not work if you use them by the hundred thousand's. Also I have yet to come across an installation that still works without any failure after a month or so. Most of the time due to budget pressures resulting in shortcuts and installation issues.
I don't know the finer details of the design and I stand corrected if I accuse wrongly for this particular project, but I am trying to make a general point here as I observe the lighting as an outsider. Do we need these screaming facades that are more ego tripping realisations than a real concerted effort to do something friendlier and less light polluting for our environment? I am not aware of any attempts towards minimising energy through the use of renewable energy in this project but at least that would offset something. Less is more. The beauty is in simplicity…
In Light Watch I attach an architectural rendering as well as a scanned foto from the newspaper announcing the newly opened Ocean Financial Centre…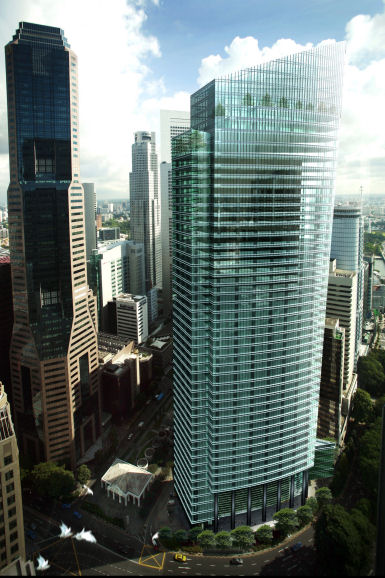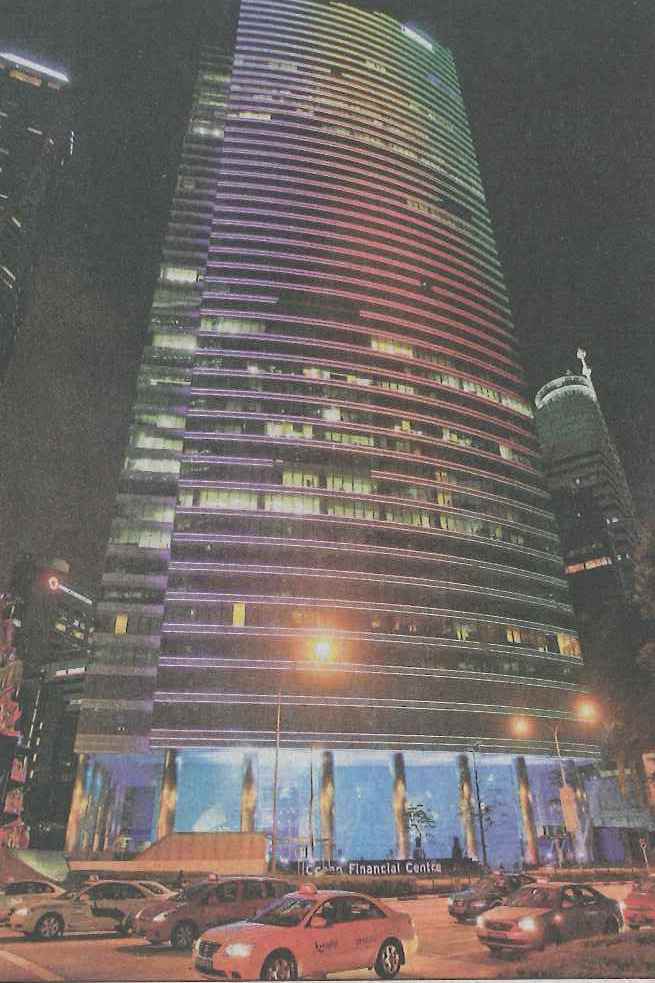 Light Watch 156: Ocean Financial Centre Singapore